How an Unsecured Business Loan Can Be the Dynamite that Helps Your Business Explode
When you are trying to grow a business, you have plenty of funding options.  The first one most think of is a loan. What most don't realize is that there are many different types of loans.  The most basic options are secured loans and unsecured loans.  However, you also have to choose between business loans and personal loans.  For helping a business grow, you are better off to choose business loans every time.  Securing a business loan will help your business grow long term, even if it is an unsecured business loan.  Personal loans do not carry the same advantage.
Here's why.  Payments on personal loans, whether secured or unsecured, are going to be reported to your personal credit. That is great for your personal finances, but it doesn't really help your business credit at all.  If you have business loans, even an unsecured business loan, those payments will be reported on your business credit report.  When this happens, your business credit grows, which will absolutely help you grow your business in the future.
Hit the jackpot with our best webinar and its trustworthy list of seven vendors who can help you build business credit.
Why Personal Loans Aren't a Good Idea
If you finance your business on personal loans, a number of things can happen.  The first is that you can completely mess up your debt-to-credit ratio.  This is a problem regardless of whether you are making your payments on time.
The debt-to-credit ratio shows how much of your available credit you are using. As a general rule of thumb, personal credit limits are lower than business credit limits.  Conversely, business expenses are typically much higher than personal expenses.  This is the perfect recipe for balances that stay at or near limits, even when you are making payments.
The other reason it isn't a good idea to use your personal credit to finance your business is this.  If your business finances hit hard times, your personal finances will go down too.  There would be no protection.
What is an Unsecured Loan?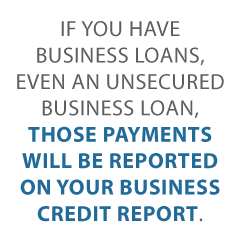 Now that we've established why you need to use business credit for your business and not personal credit, let's talk about business financing.  Specifically, let's talk about an unsecured business loan. It is important to understand what an unsecured business loan is before you can understand how it can help you grow your business.
Basically, this is a loan that you get solely on the merits of your business credit.  There is no collateral or personal security put up to help you get the loan. The only risk mitigation by the lender is the reliance on your business credit score. While some may check your personal credit score also, applying with your business information ensures that the payment history will be on your business credit report.
As you can imagine, this means that you need  a pretty stellar business score to get an unsecured business loan. The thing is, once you are there, you can use the funds to do whatever you need to to grow your business without having to worry about using any part of your business as security.
The question then becomes, how on earth do you get the strong business credit you need to qualify for an unsecured business loan?
How to Get Business Credit
Business credit is vastly different from personal credit in many ways.  Perhaps the most glaring difference is that while personal credit kind of just happens based on your spending and paying habits, business credit has to be initiated and built intentionally.  How do you start?
Incorporate your business as a corporation, S-corp, or LLC
List separate business contact information in directories
Obtain an EIN and a DUNS number
Open a bank account in your business's name and run all business expenses through that account.
These steps will help you establish your business as an entity with finances separate from your own. That means vendors will report credit information in your business name. Thus, your business credit will be born.
What's the Next Step?
Next, you have to do business with starter vendors from the vendor credit tier.  They are vendors that will offer net 30 or higher invoices and report your payments to the business credit reporting agencies. As this continues, your business credit score will grow to the point that you can apply for credit cards from the retail credit tier.
The retail credit tier includes those credit cards that are linked to a specific retail store.  This might include, for example, Staples, Lowes, or Best Buy credit cards.  You need several of these reporting positive payment history.  When that happens, you can begin to apply for cards in the fleet credit tier.
Fleet cards are those that can be used for fuel and automobile maintenance from companies such as Fuelman and Shell.  After enough of these are reporting you can apply for cards in the retail credit tier.
The retail credit tier is the top tier.  Once you are here, you can apply for those standard Mastercards and Visa cards that are not linked to a specific retail store or fuel company.  Get a few of these reporting and handle the credit responsibly.  Then, you will have a strong business score that should allow you to qualify for an unsecured business loan.  This means, you will not have to put up collateral or personal security, and your personal credit should not be affected by your business credit.
Other Types of Small Business Financing
It's probably wise at this point to discuss the various types of small business financing available.  There are options between business credit cards and unsecured small business loans.  It isn't all or nothing, and each one can play a part in helping your business grow.
Hit the jackpot with our best webinar and its trustworthy list of seven vendors who can help you build business credit.
Types of Loans
There are various types of loans including:
●        Traditional
These are the standard loans that disperse a set amount of funds, with the borrower repaying over a certain period of time.  The payment is the same each month, and they can be either secured or unsecured.  Unsecured small business loan options usually have higher interest rates.
●        Line of Credit
This is revolving debt similar to credit cards.  Borrowers are given a maximum limit of the amount of funds they can use, but only pay back the amount that they actually use.  For example, a borrower may have a $5,000 line of credit and use $2,000 to buy a new printer.  They will only pay back to $2,000, until the time comes that they choose to use more. Lines of credit can also be secured or unsecured.
●        Invoice Factoring
Factoring invoices is an option if you have receivables.   The lender basically buys unpaid invoices from you at a premium.  This means you do not get full value.  You then have immediate cash however, for those open invoices.  The lender collects from the consumer directly at full value.  The older the invoice, the higher the premium. That's because the likelihood of collecting on the invoice goes down the older the invoice gets.
●        Merchant Cash Advance
If you accept credit card payments, a merchant cash advance can help you out in a pinch.  It is  just what its name says it is.  It's a cash advance on predicted credit card sales.  They base the amount of the loan off of average daily credit card sales, and then take payment from future credit card sales. This usually happens electronically. Most often, the process is automatic.  The draw is that you get the funds fast, and there are usually more flexible options for repayment terms depending on your eligibility.
Where Can I Find an Unsecured Business Loan and Other Small Business Financing Options?
It really does no good to discuss small business financing if we don't tell you where to find it.  Here are a few options to consider.  Remember though, even if you are applying based on business credit, some lenders still want to see your personal credit score. Also, these guys aren't the only game in town.  Be sure to do your research to find the best lender for your needs.
Upstart
Upstart is a fairly new online lender that is using cutting edge technology.  They question whether financial information and FICO alone can really determine the risk associated with a specific borrower.  Rather, they are using a combination of artificial intelligence and machine learning to gather alternative data.  They then use this data to aid credit decisions.
Alternative data includes such things as mobile phone bills, rent, deposits, withdrawals, and even other information less directly tied to finances.  Software from the company learns and improves on its own.
They offer various types of financing products to fit a broad range of needs. There is something for everyone.  Debt consolidation and personal loans are included, in addition to business loans.
Quotes are available online in minutes.  Learn more in this comprehensive review.
StreetShares started as a service to veterans.  Now, they offer term loans, lines of credit, and contract financing. They also offer small business loan investment options. The maximum loan amount is $250,000.  Pre Approval only takes a few minutes. They use a soft pull on your credit so it doesn't affect your score.
To be eligible, you must be in business for at least 12 months with annual revenue of $25,000. Exceptions are possible, with loans to companies in business for at least 6 months but with higher earnings being approved on a case by case basis. The borrower's credit score must be at least 620. For more on StreetShares, see our in-depth review.
Kabbage
Kabbage is a well know online lender. They offer a small business line of credit that can help businesses accomplish business goals. The minimum loan amount is $500 and the maximum is $250,000. They require you to be in business for at least one year and have $50,000 or more in annual revenue.  They will also accept $4,200 or more in monthly revenue over the most recent three month period.
Kabbage is a great option if you need cash quickly. Also, their non-traditional approach puts less weight on your credit score, so they may work well for borrowers that still have some work to do in that department.
Fundation
Fundation provides both term business loans online and lines of credit. It is most known for its working capital funding options. These are funds meant to help cover the day-to-day costs of running a business rather than larger projects. Typically, funds come in the form of a line-of-credit.
The minimum loan amount is $20,000, while the maximum loan amount they offer is $500,000. They require you to be in business for at least 12 months and have annual revenue of at least $100,000. To be eligible, your personal credit score must be no less than 600. Additionally, you must have at least 3 full time employees, but this can include yourself. Owners that live or operate their business in North Dakota, South Dakota, or Nevada are not eligible.
Hit the jackpot with our best webinar and its trustworthy list of seven vendors who can help you build business credit.
Why is an Unsecured Business Loan Better Than a Personal Loan?
When you take out an unsecured business loan, you not only protect your business from the bank in case of default, but you ensure your personal assets are protected as well.  In addition, as you continue to build your business credit score by making payments on-time, you guarantee yourself the ability to access the funding you need to grow in the future.
Whether you need to add equipment, open a new location, or simply buy more inventory to supply the demand, you can rest easy knowing you will be able to get the funding you need.
An Unsecured Business Loan Can Help Your Business Grow
Many businesses are started on the merits of the owner's personal credit.  It certainly isn't unheard of, and in fact, it is likely the norm.  Before your business starts, it can't exactly have credit, can it? However, once you are up and running, it is important to start building business credit.  Then, when the time comes to grow and expand, you are more likely to have access to an unsecured business loan.  This will be much more effective at helping your business grow than a personal loan ever could be.
The post An Unsecured Business Loan Can Help A Startup Grow. Personal Loans Won't appeared first on Credit Suite.