As a veteran, your country owes you a debt of gratitude.  Unfortunately, it can be difficult to reacclimate to normal life after the trauma of service. Starting a business can be a great way to get back on your feet, and there are a ton of resources that can help.  These resources, coupled with opportunities opened by strong business credit, mean veterans have more support than ever before to help start and run their own businesses successfully.  F
Find Out Where to Look to Find Resources for Veteran Business Owners with or Without Strong Business Credit
Surprisingly, according the SBA findings released a couple of years ago, 2.52 million U.S. businesses are Veteran-owned.  That is 9.1%. To put it in perspective, almost 10% of the U.S. economy is made up of veteran owned businesses.  It seems, not only do veterans deserve our support for fighting for our country, but for helping to keep the economy running as well!
What frustrates you the most about funding your business? Check out how our free guide can help. 
In addition, the same report shows veteran-owned businesses, have 5.03 million people working for them.  What's more, that's an annual payroll of $195 billion. What does this mean? Surprisingly, it means that if veterans aren't given a way to fund new business ventures, a significant section of the U.S. economy will be hurting.
Thankfully, there are loans, grants, and other resources available for veteran business owners.  Consequently, you have to know where to find them. Fortunately, we can help with that. While we can't list them all, this should get you started.  
Business Loans for Veterans
First, the list of available business loans for veterans could go on forever.  We selected a few of the most popular to help you get your research started. 
Military Economic Injury Loans
This is an SBA loan that helps both veteran and current military reservists that own a business that suffered when they were called to active duty. As a result, if you own a small business that is having financial issues due to active military service on your part, you likely qualify.  The MREIDL, (Military Reservist Economic Injury Disaster Loan) Program will offer 4% interest loans to help the business stay afloat. 
Remember, it is available to business owners that are also veterans for only up to one year after release from active duty.  Terms are available for up to 30 years. Remember, there is a collateral requirement for loans over $50,000. Also, by law the SBA has to make a determination that the business will not recover without help from the government. 
Veterans Business Fund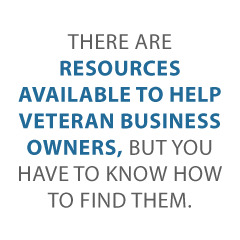 Another great option, the Veterans Business Fund, is a newer resource for veterans.  Those are looking to fund a new business or an expansion, and those that want to purchase an existing business or franchise, may find help with this fund. 
It's funded by donors, and seeks to provide veteran business loans with manageable terms. Per their website, these loans are for veterans, and are non-interest bearing to the extent permitted by law.
You cannot finance a business through VBF alone however.  The program offers loans only in conjunction with personal equity and the funding of an outside banking institution.
Streetshares
StreetShares is veteran owned and run.  They have a passion for funding veteran business loans, though they help those who are not veterans as well. Operating as an online auction marketplace, they connect entrepreneurs directly to investors with an interest in small businesses.
They also provide other information and resources for veterans online. They claim to offer funding approvals in just a few hours. Find out more about StreetShares in this review. 
7-Eleven Veterans Franchising
Along with several other companies, including UPS, 7-Eleven is offering benefits to veteran franchisees.  Eligible business owners can receive up to 20% off the franchise fee.  In addition, they may receive up to 65% financing through 7-Eleven, along with other special benefits. 
What frustrates you the most about funding your business? Check out how our free guide can help. 
SBA Express Loan Program
In the past, the SBA's Patriot Express Loan program was top notch for veterans.  Unfortunately, that program has ended.  However, veterans can still apply for the regular Express Loan program. SBA Express loans are available up to $350,000, and decisions are made in up to 35 hours.  This is a far cry from the 5 to 10 days SBA loans regularly take for decisions.   
One benefit for veterans is that loans through this program, for those who have served, will have their guarantee fees waived. This is part of the SBA VA Program.  
Hivers and Strivers
This is an angel group that specializes in startups run by U.S. military academy graduates. West Point, Annapolis, the Air Force, and the Coast Guard are all involved. Find out more here. 
Other Options for Veterans with Strong Business Credit and Personal Credit
Although the following lenders do not focus specifically on veterans, they offer small business loans that can supplement what is obtained from veteran resources. 
LendingClub
LendingClub works by giving investors a fixed income alternative by investing in personal loans, while offering borrowers loans with investors' funds.
It's a simple process. Just enter how much you want to borrower.  Next, choose the type of loan you are looking for. Then, enter some very basic information. You'll get two different offers at least. One will have a lower payment but a higher interest rate. The other will be vice versa.
Loans range in amounts from $1,000 to $40,000 with an origination fee of 1% to 6%. This fee comes off the top before funds go into the borrower's account. That means if you have a $1,000 loan with a 1% origination fee, you will only receive $990 in your account. You still have to pay back the full loan amount of $1,000 of course.
Interest rates range from 6.16% to 35.89%. Repayment terms are typically monthly, spanning over 3 to 5 years. After approval, it can take up to a week to receive loan funds.
The minimum credit score for a loan is 600. In addition, you must have a credit history that goes back at least 3 years.  If you do not have the personal credit needed, they may take strong business credit into consideration.
Fundation
The great thing about Fundation is that they will report payments to the business credit reporting agencies.  In return, this helps you build strong business credit. They offer a streamlined, automated process. Originally, they only had invoice financing.  However, now they offer a line of credit service as well. Repayments are automatic, meaning they draft them electronically.  This happens on a weekly basis. One thing to remember is that you could have a repayment as high as 5 to 7% of the amount you have drawn currently, since the repayment period is comparatively short.  
Loans range from $100 to $100,000.  The max initial draw is $50,000 however.   They do have some products that go up to $500,000.  There is no minimum credit score requirement, but they do require at least 3 months in business, $50,000 or more in annual revenue, and a business checking account with a minimum balance of $500.
As I said, they report to Dun & Bradstreet, Equifax SBFE, PayNet, and Experian, which makes them a great option if you want to build strong business credit.
Funding Circle
Funding circle is one of your best options if you are looking for a low APR.  They offer fixed rate term loans. The credit score requirement is 620 or above.  Still, they make take a strong business credit score into consideration if you do not quite meet that.  They do not have a minimum revenue requirement, but they do require at least 2 years in business. Find out more in our Funding Circle review. 
Veteran Funding Options that Do Not Require Strong Business Credit
In addition to loans, there are many grant opportunities for veteran business owners.  They are not all right for every veteran, but if you are eligible, they can be great supplemental funding. 
VetFran Business Grant Fund
This is a grant opportunity for those that have been awarded a franchise through the IFA VetFran program.  Go here to find out more. 
USDA Veteran and Minority Farmer Grant
This is a grant that helps veterans get started in the farming industry. 
StreetShares Commanders Call Veteran Business Award
The StreetShares Foundation offers this award to 3 veteran business owners each year. 
There are three prizes as follows: 
1st Place: $15,000

2nd Place: $6,000

3rd Place: $4,000
To apply, a business must meet the following requirements:
The applicant has to be a veteran or reserve or active duty member of a branch of the United States Armed Forces, or a spouse of an armed forces member. 
They must be at least 21 years old.

The business must be legally incorporated or a formal partnership or sole proprietorship.

There must be some sort of social impact on the veteran or military community either in conjunction with or in addition to the primary business function.
In the end, the foundation will choose 5 to 10 finalists.  They base their decision on the social impact of the business idea.  Additionally, they consider how the business will use award funds, and the social impact of that use.  The fit of the product market, the history of the team, and the history of the company also play into the decision. 
Lastly, once the finalists are set, they post a list on the website and the public votes on which businesses will receive prizes!
Resources that Provide Services Other than Funding Veteran Business Owners
Thankfully, there are many resources available to veteran business owners that provide support not related to business funding. 
Dept of Veterans Affairs
This is the government department set up to help ensure veteran business owners get their fair share of the pie.  That includes government contracts. Find out more at: https://www.va.gov/osdbu/programs/index.asp
Veterans Business Services
Veterans Business Services, or VBS, offers the following: 
Self-employment pre -feasibility assessment opinion letters

VA vocational rehab

Business plan development and coaching for service-disabled veterans

Feasibility studies for small business concepts
VBS offers all of this and more.  Go here for more about these and other ways they can help service-disabled veterans. 
VetBiz
The VetBiz program helps veterans "transition military skills into small business success" per their website.  Similar to other programs, they offer training, coaching, and consulting. Also, they partner with the Small Business Administration for the Boots to Business program.  More information can be found here.
Syracuse University's Institute for Veterans and Military Families
Honestly, there are many programs at Syracuse University for veterans and their families.  Read about all of them here. However, one of the newest programs is an outstanding opportunity for veterans that want to start their own business.  It's called EBV Accelerate, and it consists of 3-phases. 
What frustrates you the most about funding your business? Check out how our free guide can help. 
Self-stated, the goal of the program is to give veterans business tools and coaching to rocket their business to sustainable growth. To qualify, you must be a veteran business owner that has been in business for 3 years or more.  Of course, the veteran must have at least 50% ownership. 
In addition, there must be active duty with honorable discharge or general discharge under honorable conditions. Also, 5 people have to be full time employees.  It's short, lasting a little over two weeks. The first phase, Phase 1, is 2 weeks of online work. Next, Phase 2, is a 3-day residency course. Phase 3 consists of resources to support business growth.
More Resources for Veteran Business Owners
For more help, here are a few more resources that can help veteran business owners in a number of ways.
How Can Strong Business Credit Help?  
Truthfully, strong business credit can help any business owner, including veterans, get the funding they need.  Consequently, if you don't have business credit, now is the time to start building it. In reality, even though it is easiest to start at the beginning, you can start at any time.  Find out more about how to start and build strong business credit here.
Strong Business Credit Can Help You Access More Resources for Veterans
There are resources available to help veteran business owners, but you have to know where to look.  Most of them will not work singularly, but rather they will work together to help ensure the business has the funding and other support necessary to be successful. 
The post Spend This Veteran's Day Building Strong Business Credit and Finding Resources to Help You Build the Business of Your Dreams appeared first on Credit Suite.