Business tradelines are the accounts on your business credit report.  We are going to tell you everything you need to know about why you need them, how to get them, and how to use them to build strong business credit.
And How to Get Them Without Already Having Business Credit
Business tradelines, and terms like it,  are thrown around in the business world with the assumption that everyone knows what they mean.  However, these assumptions can cause problems when they are wrong. Then you run into issues with people using terms in ways they are not meant to be, to mean things they do not really mean.  As you can imagine, it can cause a lot of confusion. 
Our goal is to clear up that confusion.  We intend to lay out for you exactly what tradelines are, why you needed them, and what you don't know about them that you definitely need to know.  
Check out our best webinar with its trustworthy list of seven vendors to help you build business credit.
What Are Business Tradelines?
The term in question, business tradelines, simply refers to accounts that report your payments to the business credit reporting agencies, or CRAs.  That could be vendor accounts, business credit cards, or a select few other things. Most often the term refers to vendor accounts. 
You buy stuff from these vendors, and they allow you to pay them at a later date. We call this net terms.  It is different than revolving credit, because you have to pay the whole balance by a certain date.  
That means they will bill you for the goods or services you buy from them, with the understanding you will pay within a certain amount of time.  Most often, it is 30 days, or net 30 terms. Occasionally they will extend net 60 or net 90 terms. 
If you know anything about tradelines, that is likely the extent of it.  Now, here is what you don't know.  
5 Things You MUST Know About Business Tradelines That You Probably Don't Know Already
This is the information that can get confused from source to source.  We're going to clear it up for you. 
Not all Business Tradelines are Good for Building Business Credit
Tradelines are only good for building business credit if they report your payments to the business credit reporting agencies, or CRAs.  These include Dun & Bradstreet, Experian, and Equifax. There are a few others as well, but these are the big three.  
The thing is, not all of them do report payments.  They are not required to do so, and many do not. You have to find those vendors that will report your payments if you are going to use them to build business credit. 
Buying Business Tradelines is a Bad Idea
Since it can seem almost impossible get business tradelines without credit, someone somewhere at sometime had the idea to create companies, use them to obtain tradelines, then sell the tradelines to those who wanted fast business credit. 
Essentially, these are shelf companies that have years' worth of seasoned tradelines.  They market to new business owners as a way to access funding they would not otherwise qualify for. It sounds great.  You pay a lot, but you get the potential access to so much more. 
The truth is however, that lenders are not dumb.  They caught on to this ruse quickly, and though it is not technically illegal, it is very much frowned upon.  If a lender catches wind of the idea that you may be using business credit that you did not actually build yourself, you could be blackballed.  That means, not only would you not be able to get funding based on the credit you purchased, but it would block you every time you try to build credit on your own. 
You Can Get Business Tradelines without Already Having Business Credit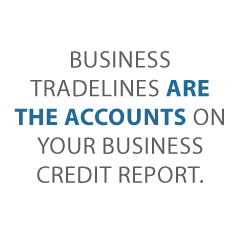 This is the little-known secret to building business credit that you have been looking for.  If you start with vendors in the vendor credit tier, known as starter vendors, you can get tradelines without having business credit at all.  When they start reporting the CRAs, your credit will start to grow on its own without you having to spend a dime other than what you buy from the tradeline vendors that your business needs anyway. 
Once you have enough business tradelines reporting from these starter vendors, your credit should be strong enough to start applying for credit cards in the other credit tiers.  As you gather more accounts in each tier, you will be able to move on to the next tier. 
2. You Need to Get Business Trade Lines in a Specific Order
I touched on this above.  If you are using business tradelines to build business credit, you can't just start applying for business credit cards right away.  They will deny you every single time. You have to start with establishing tradelines with those starter vendors in the vendor credit tier. 
3. Too Many or Too Few Tradelines Reporting Can Affect Your Business Credit Score
The problem with this is, the CRAs are pretty tight lipped on where the sweet spot is.  That said, your best bet is to open only as many accounts in each tier as you need to move on to the next.  Then, only close accounts if you absolutely must.  
One thing we do know is that Dun & Bradstreet requires at least three tradelines reporting before it will even calculate a Paydex, which is the score lenders most commonly use.  It is the most like the personal FICO score.
3 Tips to Establishing Initial Business Tradelines Without Established Business Credit
Along with the Vendor credit tier, which I will talk more about below, there are a couple of other options for getting initial business tradelines reporting your payments. 
Check out our best webinar with its trustworthy list of seven vendors to help you build business credit.
Ask Bills to Report
You pay things like utilities, rent, telephone, and internet each month already.  These companies do not have to report to the CRAs, but some will. You'll have to ask, but the worst they can say is no.
Work with Current Vendor Relationships
If you have been in business long enough to have vendors that you already have a good relationship with, use that to your advantage.  Open a discussion about net terms on invoices and see what they will offer. You may be able to get some tradelines reporting without a credit check that way, and build to the next tier faster. 
The Vendor Credit Tier
In addition to these options, the vendor credit tier is the best place to get started when it comes to building business credit.  Many of the vendors in this tier will extend net terms and report payments, without doing a credit check. Instead, they will rely on length of time in business and income to determine eligibility. 
Now you are probably asking yourself, who are these vendors.  There are several, but some of the easiest to get started with include: 
Quill
Quill sells office equipment, packaging, and cleaning supplies. They report to D&B and Experian.  Because they report to two separate credit reporting agencies, you get two credit experiences with them. Place an initial order first unless you already have a D&B score.  Then, if you order items every month for 3 months, they will typically approve you for a Net 30 account.
When you check out you will see the option to buy now and pay later.   Use your business information to fill out the form. Don't worry about it when they ask how long you have been in business. Because even new business owners often report approval.  It can take a couple of hours to get approval. It may even take a couple of days if you apply on the weekend.
Uline
Uline sells shipping, packing, and industrial supplies, and they report to D&B.  You must have a D-U-N-S number. They ask for 2 references and a bank reference. The first few orders may need to be prepaid to first get approval for Net 30 terms.
When you check out you will see the option for them to send you a bill.  If you choose this option and check out successfully, you know you got approval. 
Grainger
Grainger Industrial Supply sells safety equipment, plumbing supplies, and more.  They report to D&B, and they require a business license, EIN, and a D-U-N-S number.  If you have these things, you may get approval for a $1,000 line of credit.
What are The Other Credit Tiers? 
If you are new to the idea of business credit, this is likely a question you are asking yourself as you read this.  I keep talking about the other credit tiers, but what are they? The tiers work similar to stair steps, with the vendor credit tier being the bottom step.  You cannot move up to the next step until you have enough vendor credit tier accounts reporting. 
Once this happens, you can move up to the retail credit tier.  These are cards that you can only use at the specific stores that issue them.  For example, a Staples Card or a Best Buy Card would be in this tier. When you have enough of these types of accounts reporting, you can apply for cards in the fleet credit tier.  These are cards from companies like Shell and Fuelman that are exclusively for costs related to fuel and auto maintenance and repair. 
After you gain enough accounts in each of these tiers you can apply for cards in the top tier, the cash credit tier.  These are the standard cards with lower interest rates, higher limits, and no limitations on where you can use them or what you can use them to purchase. 
Be Sure Business Tradeline are Reporting to Your Business Credit
It isn't a given that these tradelines will report to your business credit.  You have to have to business set up properly for that to happen. What does that mean?  It means setting up your business as a separate entity from yourself as the owner. 
The first step in this process is to make sure your business has its own contact information. Your phone number and address are identifying factors on your personal credit. So, if your business shares the same information, things are not going to get confused and mixed up. 
Other Ways to Set Up Your Business Separately from Yourself
Get an EIN. This is an identifying number for your business similar to your SSN.  So use it instead of your SSN when applying for business credit. 

Formally incorporate your business.  A corporation, s-corp, or LLC will do serve the purpose, so choose based on your budget and liability protection needs. 

Open a separate business bank account.  This will not only serve to help separate your business from yourself, but it will come in handy at tax time as well. 

Set up a professional business website.  Pay for hosting. A free service won't work.  Also, get a business email address with the same URL as the website.  Stay away from free services such as Yahoo and Gmail. 

Get a D-U-N-S number.  You cannot have a credit profile with Dun & Bradstreet without one, and since they are the largest and most commonly used business CRA, you need a profile with them.
If you set up your business in this way, and apply for credit using the business information and not your own, your tradelines should report to business credit and not personal credit. If you are already up and running and haven't done these things, it's not too late.  Get started now. 
Check out our best webinar with its trustworthy list of seven vendors to help you build business credit.
Going Forward: Business Credit Monitoring
After you have business trade lines reporting to the business CRAs, be sure you keep an eye on your reports.  So, they will likely not show the name of the companies reporting, only the types of companies. That means you need to keep track of your accounts and match them up so you know who is reporting what.  You will also want to watch for any mistakes and get them corrected. We can help you monitor your business credit on a regular basis here. 
The post 5 Things You MUST Know about Business Tradelines appeared first on Credit Suite.