Many business owners do not understand their business credit score. What is it? How is it generated? What can I do to make it higher? Individual consumers normally find that much of their lending life rests on the FICO score, but what about businesses? Which scores do business owners need to worry about?  
There are many options for business credit reports.  Why worry about Experian? Business Experian is one of the main three busing credit reporting agencies.  The other two are Dun & Bradstreet and Equifax. 
Everything You Need to Know About Business Experian: From Profile to Improving Your Score
You need to know what your business Experian reports say.  Honestly, knowing what information lenders are getting from this report is necessary to help you determine your business fundability.  To understand completely, you need to know where the information on the report comes from, of course. But that's not all. You also need to know how they calculate the business credit score.   
Keep your business protected with our professional business credit monitoring. 
Business Experian: How Do They Get Your Information?
Experian keeps business credit profiles on 99.9% of all United States businesses. According to them, they hold the credit industry's most inclusive database on small businesses. As a result, if your business is already operating, it probably already has a business Experian file.
Their information comes from third party sourcing. Consequently, you cannot add anything to your business credit profile yourself. You can, however, still review your profile.  Then, you can tell them about any mistakes and have those mistakes corrected.
Business Owner Profile
For smaller companies, Experian will add a business owner profile.  This is to show the relationships between you and your business. Experian's Business Owner Link automatically links the credit history of more than 5 million business owners to their business credit history. This makes things easier for creditors to find a Business Owner Profile on small business accounts. It also makes it easier for them to determine overall creditworthiness.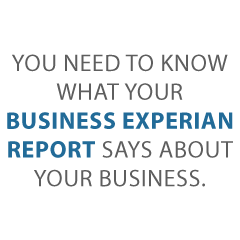 What's on Your Business Experian Report?  
Experian sells different products and reports that keep track of a business's credit.
Business Credit Advantage Plan
This is presently $149 monthly and incorporates mobile-friendly alerts and score improvement pointers.
Profile Plus Report
This report is currently priced at $49.95 and it includes financial payment details and predictive information on payment behavior.
Credit Score Report
The least costly of the available reports, it is currently $39.95. This fundamental report features detailed company and credit information.  It also shows summary financial payment information.
Valuation Report
At $99, this report is a middle of the road option in terms of cost.  It shows the value of your business and features Key Performance Indicators. It also shows the fair market value of the business.
Premium Corporate Profiles
For an additional charge, Experian also offers premium corporate profiles. They enhance these profiles by adding extra information.  Additional data includes sales figures, size, contact details, products and operations, credit summary, any Uniform Commercial Code (UCC) filings, fictitious business names, plus payment and collections history. In addition, these premium profiles have information on credit inquiries made in the last nine months.  UCC specifics and financial details from Standard & Poor's round out the information on this report.
What Does Your Business Experian Report Tell Lenders? 
A business Experian report is set up in several different sections.  We break it down below. 
Identifying Information
This report is split within itself. First, you get the standard identifying data and details of ownership. This area also lists major personnel, company type, and length of time in business.  Number of employees and annual sales are on this report as well.
Payment Information at a Glance
After that, there is a section noting delinquent payments.  It also shows those payments they expect to go delinquent. Additionally, you can see the lowest and highest balances for the past six months and the current balance. By showing the highest credit limits, there is an idea of the highest credit utilization rate.
Keep your business protected with our professional business credit monitoring. 
In addition, this segment contains the number of tradelines a business holds.  Also, it has the number of credit inquiries in the past. Uniform Commercial Code filings are on this list too.
Next, there is a relative percentage showing the percent of businesses doing worse than the one in the report.  Lastly, you can see the number of bankruptcies, liens, and judgments.
Credit Summary
After that is the credit summary. This shows the company's Experian credit score.  It also has links to information about what enters into the score and tips on exactly how to improve it.
Payment Summary
The next area is the payment summary. It shows line graphs for monthly and quarterly payment trends.  It also shows where those numbers originated from. The monthly payment trend is even graphed against the industry average.
Just below this pair of graphs are three bar charts showing continuous payment trends. The first includes tradelines that have been reported for over 6 months.  The next includes tradelines that have been reporting for 6 months. At the end, there is a chart that shows these payment trends in combination. 
Trade Payment Information
How has the business done with making payments?  This section will tell you. It breaks payments into credit card and leasing accounts.  Then, it further breaks them down by supplier category. Lastly, payment trends are at the bottom. 
Inquiries
This part is pretty self-explanatory.  This is where the inquiries into the company's credit are listed.
Collection Filings
If a business has any collection filings, they'll be in this section in date order.  It will also list collection agency name, status, amounts contested and collected, and the closed date.  
Commercial Banking, Insurance, Leasing
This portion shows what Experian knows about your company in relation to banking, insurance, and leasing.  For example, what was credit extended for? How much credit was extended? When did the loan start? Is there any remaining balance? If so, how much? 
Judgment Filings
Next the report shows basic legal information.  For example, the court where a judgment was filed, the day, and what amount it was for.
Tax Lien Filings
Tax lien filing data is similar to judgment filings, except that there is a listing for a filing location, rather than a court.
UCC Filings
This only displays the date, filing number, jurisdiction, name of the secured party, and activity on the filing.
Business Experian Credit Monitoring
Obviously, you can register for business credit alerts. Experian's Business Credit Advantage program operates as a self-monitoring service. You get unrestricted access to your company's business credit report and score. You can use this resource for proactively managing your company credit. Alerts are sent for:
Company address changes

Changes in your business credit score

Credit inquiries on your business profile

Newly-opened credit tradelines

Any kind of USS filings

Collection filings and

Any public record filings, such as liens, bankruptcies, and judgments
However, we can help you monitor your credit with business Experian for a fraction of the cost.  Go here to find out more. 
Business Experian: Intelliscore Plus
You need to understand this score and how it works.  You may not be able to change it much, but by understanding the score, what it tells lenders, and how it is calculated, you can work to mitigate any negative issues with positivity.
What is the Intelliscore Plus Credit Score?
The Intelliscore Plus credit score is credit-risk analysis. The primary function of Intelliscore Plus is to help businesses, investors, and prospective lenders make well educated judgments about who they should or should not do business with.
Intelliscore Plus Credit Score Range
The Intelliscore scores range from 1 to 100.  The higher the score, the lower the risk class. In contrast, the lower the score, the higher the risk class. It breaks down like this: 
Score Range Risk Class
76 – 100 Low

51 – 75 Low – Medium

26 – 50 Medium

11 – 25 High – Medium

1 – 10 High
How Does Business Experian Calculate Intelliscore Plus?
In the credit world, Intelliscore Plus is regarded as one of the most reliable tools for determining credit risk. Here's why.  They use over 800 variables to calculate the score. That's a lot, but they all fit into these three general categories. 
Keep your business protected with our professional business credit monitoring. 
Payment History
This features the number of times accounts have become delinquent, the percent of accounts that are currently delinquent, and your overall trade balance. 
Frequency
Frequency is related to payment history.  It takes into account how many times your accounts have been sent to collections, liens and judgements, and any bankruptcies on both business and personal accounts.  
This also relates to payment patterns.  Were you regularly slow or late with payment? Did you begin by paying bills late but now you are doing better? This is all taken into account.
Monetary
This detail focuses on how you make use of credit. For example, how much of your available credit is currently being used? Do you have a high ratio of delinquent balances in relation to your credit limits?
If you're about to start a small business or are relatively new to this game, the list above may seem a bit overwhelming. Furthermore, how will you rate if you have a short time in business? 
This is where the blended model comes into play. This means that they take your personal credit score into consideration when calculating your business's credit score.
Can You Do Anything to Improve Your Business Experian Score?
While you may not be able to do anything to make a big score increase happen all at once, you can definitely do some things that will make a positive difference over time. 
Pay on Time
This is number one.  Over time, paying your bills punctually will help establish your company as one that satisfies their debts. This will definitely help push your score up and show other firms that you are a low credit risk.
Make Wise Credit Choices
The more debt you have on your plate, the more monthly bills you have.  Consequently, the less disposable income you have. If your overall debt is close to or even over your income, your business with appear to be a high credit risk.
Keep your debts in check and consistently pay them down or off. So this is to keep a healthy balance between what you make and what you owe.
Use the Credit You Have
Keeping your debts low remains solid advice. But you have to make use of the business credit accounts you have.  You have to be making payments on accounts for your score to grow. Having a ton of credit and not using it at all doesn't really help.  This, again, is where balance comes into play.
There is no need to buy things you do not need however.  Even if you can pay cash, use credit for the things you would be buying regularly for your business anyway.  Then, use the cash to pay the credit account. 
Watch Your Personal Credit
By now, you're aware that personal credit is fair game when it comes to your Intelliscore Plus score. Don't fall into the trap of thinking your personal credit doesn't matter.  If it is bad, there are options for working around it. However, it is much better to just keep it healthy. Making certain you stay on top of your monthly bills is the number one way to keep your personal score strong. Avoid unneeded credit inquiries, and refrain from compromising your personal credit for business demands.
Make Use of Monitoring Options
No matter what your credit score is, it is crucial that you continue to be diligent. Sod review your personal and business credit reports. This can help you spot possible errors and stay educated on your own credit profile.   
Business Experian Credit Scores Make a Difference When it Comes to Funding
It's important to understand your business Experian score.  It can affect your ability to get funding. So you need to know what it is, what it tells lenders, and what affects it.  Once you know these things, you can work from your end to keep it as high as possible. In turn, this will greatly improve your ability to fund your business. 
The post Business Experian: A Comprehensive List of Everything You Need to Know appeared first on Credit Suite.