The United States is known as the melting pot for a reason.  It is full of people with roots stretching worldwide. Some countries are less represented than others however.  This means we have a lot of citizens in minority groups. In some areas of the country, the entire population is part of a minority group.   In 2016, there were 8 million minority owned businesses.  This was up 38% from 2007 data.  If you have a minority owned business, then you have some additional funding options. 
Additional Funding Options for Your Minority Owned Business
These options come in the form of loans and grants for minority owned business.  You need to know where to look. You also need to know eligibility requirements. This will help you prepare your application.  A great application will help to improve your chance of winning a grant or loan approval. 
Check out our professional research on bank ratings, the little-known reason why you will – or won't – get a bank loan for your business. 
Minority Owned Business Grants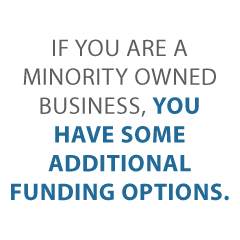 Grants are basically free money. You never have to pay it back.  However, they are also highly competitive. In addition, they are rarely enough to completely fund a business.  Still, grant money can reduce the need to borrow money.  
Here are some minority grant options to consider.  There are certainly others out there though. They are not always well advertised.  This means you need to be sure to do your own research as well. 
First Nations Development Institute Grants
This group has a mission to offer grants to help Alaska Natives, Native Hawaiians, and Native Americans.  In addition to the funds, they offer assistance in the application process.
There is a wide range of opportunities from the First Nations Development Institute, with new ones rolling on as old ones roll off. Join the mailing list to be notified of new opportunities as they are posted.
National Black MBA Association Scale-Up Pitch Challenge
Also known as NBMBAA, their Scale-Up Pitch Challenge offers prizes in cash ranging from $1,000 to $50,000.  The purpose of the association is to help newer businesses that have an African founder that maintains equal ownership.  
A business must be an NBMBAA member to compete.  There is a $10 monthly membership fee. Then, there is an online application.   If chosen, a business must submit a three-minute pitch. Finalists will go on to compete at the NBMBAA annual conference."
FedEx Small Business Grant
This grant is the FedEx way of working to strengthen small business innovation.  The company awards 10 grants. They range from $15,000 to $50,000 every year. If you're a minority owned business owner with a cutting-edge product, this could be the grant for you.
You have to submit entry via the FedEx website. It requires that you answer a few questions about your business.  This includes providing an elevator pitch about what makes your business stand out.  In addition, you have to explain how you would use the grant funds. You can also submit an optional 90 second video.
NASE Growth Grants
The National Association for the Self-Employed (NASE) has small business Growth Grants that range up to $4,000. Grant recipients must be micro-businesses. Proceeds can be used to help your business market, advertise, expand, and hire employees. These grants are open to everyone.  However, you do have to be a NASE member to apply. Cost of membership depends on the member level you choose.
USDA Value Added Producer Grant
The USDA's Value Added Producer Grant (VAPG) program offers grants for small businesses.  This includes minority owned business. Grants range up to $250,000. They are specifically to help agricultural producers with activities that add value to their products. Grants are open to those in rural areas.  They must be operating as cooperatives, farmers, ranchers, independent agricultural producers, or agricultural producer groups. 
Minority Owned Business Resources
These resources do not offer grants or any type of funding directly.  Still, they can be a great help and support in finding funding. They can also help with other issues that come with being a minority business owner. 
Check out our professional research on bank ratings, the little-known reason why you will – or won't – get a bank loan for your business. 
Minority Business Development Agency (MBDA)
This agency is under the direction of the United States Department of Commerce.  It helps minority business owners and minorities that want to become business owners. They have business centers all around the country.  They offer help finding grants that could be a good fit. In addition, they offer help with the application process. 
USA.gov
While not minority specific, this website offers a list of government resources.  This includes resources for any minority owned business. It also provides links to many federal government agencies that offer loans and grants for minority small business. 
Grants.Gov
This is another resource to help find grants for your minority owned business.  In addition to a list of grant opportunities, it has information that can help you create a winning grant application package. 
There are over 1,000 grants to dig through.  Most of them are for research and development purposes.  You should still take the time to look at them, as you may find one that will work well for your business. 
Loans for Minority Owned Business
Loans for minority business owners can come from several different sources.   Some only offer minority business loans to those in certain cities. Some are only available if you are looking to land government contracts.  Each have their own requirements. It takes a lot of research to line everything out and see what is available. We have a list of some of the best options to help you get started. 
Business Consortium Fund, Inc.
This program is through the US Department of the Treasury.  Typically, businesses can qualify for $75,000 to $500,000 after approval.  Amounts above $500,000 are possible. However, they are on a case by case basis only.  
Businesses can use funds for working capital, equipment financing, and contract financing. To apply, you have to certify your business through The National Minority Supplier Development Council. In addition, a business must have a supplier relationship with the Council to be eligible. 
National African American Small Business Loans
These loans are only available in Chicago, Los Angeles, and New York.  They go to communities with low to medium incomes. The NASBLF  provides capital to African American owned businesses that are not eligible for traditional financing options.  
The range for loans is $35,000 to $250,000. Borrowers can use funds to help with cash flow, expansion, and equipment purchases. Thirty million dollars total are available each year.  
Accion
Accion offers loans in all states for minority owned business.  They also serve veterans, women, and those with disabilities.  Low to medium income business owners may also be eligible. Loan amounts range from $200,000 to $300,000. They work to help build businesses from square one.  They can also put owners in contact with other banks, non-profits, and government resources to help build a network of support.
The minimum credit score for these loans is 575.  In addition, you cannot be 30 days late on credit cards, loan payments, or bills.  Late rent or mortgage payments over the past year will also disqualify you.
Community Development Financial Institutions Fund 
CDFI
lends to communities that typically lack banking options.  This includes minorities. Since the Community Reinvestment Act of 1977, banks must offer funding in communities that find it hard to get traditional funding.  Big banks often fund minority business owners indirectly through their CDFI partners.  
To locate a CDFI, contact the local business development center.  Your local Small Business Development Center office should also be able to help.  
The application process can be long.  Thankfully, they do offer assistance to prepare for future bank loans as well.  
Union Bank Business Diversity Lending Program
This program from Union Bank assists minority business owners with loans and lines of credit. To qualify as a minority for the program, you must be Latinx, American Indian, Asian, Alaskan Native, African American, Native Hawaiian, or other Pacific Islander.   
Other requirements must be met as well.  For example, you must be in business for at least 2 years, and the minority business owner must own at least 51 percent. 
Indian Affairs
Native American business owners can get loans from the federal government.  These come through the Indian Affairs branch. You apply with any lending institution.  You just have to use the Indian Affairs application.  If the funds are for construction, renovation, or refinancing, there will be additional requirements.  Generally, a list of collateral, a credit report, and an analysis of business operations are necessary.
Camino Financial 
Camino is an online lender that offers minority business owners loans and business solutions.  All processes take place online, making it an easy option. Their microloans range from $5,000 to $50,000.  They also offer small business loans between $10,000 to $400,000. There is no collateral requirement. As a benefit, you can pay off the loan any time with no penalties or fees. 
Check out our professional research on bank ratings, the little-known reason why you will – or won't – get a bank loan for your business. 
SBA Options for Minority Owned Business
In addition to these options, the Small Business Administration has some programs that may work well, though they are not for minorities only.
SBA Community Advantage Loans
Community advantage loans are for underserved communities that need less than $250,000.  Likewise, you can find lenders that work with the SBA on this program using the SBA Lender Match tool. 
SBA Microloans
They also have microloans available of up to $50,000.  Unlike others, these are offered through nonprofit organizations. With interest rates ranging from 8% to 13% and maximum repayment terms of six years, they can work well for minority business owners.
One of the SBA's partners in this program is The Opportunity Fund.   According to them, 90% of its borrowers are minority business owners. 
SBA 7 (a) Loans
Like other SBA programs, these are not specifically for minorities.  Still, they are available to minorities the same as everyone else. They are 10-year loans of $30,000 to $350,000.  Rates range from 9.7% to 11.04%, and they can turn around in as little as 7 days. More often they take up to several weeks. 
Private Lender Options for Minority Owned Business
Again, these are not necessarily only for minorities.  However, many alternative lenders offer loans that work well.  Specifically, minority owned businesses sometimes struggle with meeting credit score requirements.  The following loans are available with a lower credit score than what most traditional lenders require. 
Fundbox
Surprisingly, there is no minimum credit score.  In fact, if you have at least $50,000 in annual revenue you can qualify for a line of credit from Fundbox.  Additionally, you also need to be in business for at least 3 months.  Amounts range from $1,000 to $100,000 with rates from 10.1% to 79.8%. Terms are for 12 weeks, and you can have your funds as quickly as the next business day.  
Kabbage
Another lender that will make loans on credit scores as low as 500 is Kabbage.  Terms are for 6, 12, or 18 months and amounts range from $2,000 to $250,000.  So interest rates are higher, at 24% to 99%. Funding can take several days, but sometimes happens in just a few minutes. 
QuarterSpot
QuarterSpot is another option.  Many prefer it, due to terms that go up to 18 months.  Loans range from $5,000 to $250,000, but rates are pretty high at 30% to 70%.  Nevertheless, approval can happen in as little as 24 hours. 
Credibility Capital
Loans with Credibility Capital range from $50,000 to $400,000.  Terms are for 1, 2, or 3 years, and rates range from 10% to 25%.  So like most, funding usually takes around 7 days.  
SmartBiz
SmartBiz offers low cost financing for expansion.  Unlike the others, these are SBA loans. However, with SmartBiz funding happens a lot faster than with traditional banks.  In fact, they can take a few weeks rather than a few months. 
A Minority Owned Business Has Additional Funding Options Available
It's true.  In addition to the traditional options, there are other funding resources available to help minority business owners. While many of them, like grants, will not fully fund a business, they can all reduce the need for debt. The key is knowing where to find them and how to qualify.  The list above is a great starting point, but there is so much more. It's worth the time it takes to dig in and see what is available. 
The post Additional Minority Owned Business Funding Sources are Available if You Know Where to Look  appeared first on Credit Suite.