When a business already exists, loans are often needed to help it grow. How to get a loan for a business growth is a little different than when you first get a loan to start your business.  In some ways, it is easier. In others, it is more complicated. For example, you already have your business plan and market research. You do not have to do all the original projections, and you do not have to convince a lender you have a winning idea. There are other steps in how to get a loan for a business however.
If you need to know how to get a loan for a business that already exists, you will have to convince a lender that it has potential for growth. In addition, they will want to see proof of financial success, and you will need to provide them with a plan for how you plan to use the money to aid growth and expansion.
Find out why so many companies use our proven methods to get business loans.
A Step by Step Plan for How to Get a Loan for a Business 
It can sound overwhelming, but if you follow the steps, most of the hard work will be done before you ever talk to a lender.  The key is to know which type of lender and what type of loan will work best for your needs. Once you know those two things, you can prepare specifically for that.  Then, when the lender starts asking questions you will be ready. This will make the process of how to get a loan for a business much faster, and likely it will go much more smoothly. 
How to Get a Loan for a Business: 
Step One: Choose the Type of Loan You Need
First, consider the type of loan you need in light of what you actually qualify for.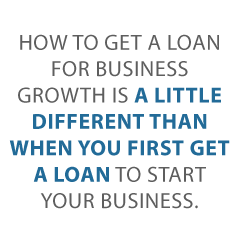 Traditional Loans
These are the standard loans that disperse a set amount of funds, with the borrower repaying over a certain period of time.  The payment is the same each month, and they can be either secured or unsecured. Unsecured small business loan options usually have higher interest rates. 
Line of Credit 
This is revolving debt similar to credit cards.  Borrowers are given a maximum limit of the amount of funds they can use, but only pay back the amount that they actually use.  For example, a borrower may have a $10,000 line of credit and use $5,000 to buy a new commercial oven. They will only pay back to $5,000, until the time comes that they choose to use more. Lines of credit can also be secured or unsecured. 
Invoice Factoring
Factoring invoices is an option if you have receivables.   The lender basically buys unpaid invoices from you at a premium, meaning you do not get full value.  You then have immediate cash however, for those open invoices. The lender collects from the consumer directly at full value.  The older the invoice, the higher the premium. This is due to the fact that the likelihood of collecting on the invoice goes down the older the invoice gets. These are an option for fast cash.
Merchant Cash Advance
If you accept credit card payments, a merchant cash advance can help you out in a cash pinch.  It is basically just what is says. It's a cash advance on predicted credit card sales. They base the amount of the loan off of average daily credit card sales, and then take payment from future credit card sales. This usually happens electronically. Most often, the process is automatic.  The draw is that you get the funds fast, and there are usually more flexible options for repayment terms depending on your eligibility. This is another great option if you need cash quickly.
Which one of these will work best for your needs?  Well, if you are looking to grow, then you likely have a plan for what that will take.  In general, a traditional type of loan or a line of credit works best for growth. 
Find out why so many companies use our proven methods to get business loans.
How to Get a Loan for a Business: 
Step Two: Choose the Type of Lender
 A lot of business owners think that a bank is their only option.  There are a few different types of lenders to consider in how to get a loan for a business already running however. 
Large Commercial Banks
These include those nation-wide institutions like J.P. Morgan Chase and Wells Fargo.  As a general rule, they are small business friendly. There is nothing specific that they hold against smaller businesses.  It is simply that these businesses do not generally meet the requirements for borrowing from large banks.  
Community Banks
Community banks are the smaller, local financial institutions.  Sometimes they are called hometown banks. They are typically more friendly toward small businesses.  Often, they are able to look a little deeper and see a tad bit more than the numbers. Their small business loan options may have less strict eligibility requirements as well.  Still, the numbers make a difference. Whether credit score, annual income, years in business, or some combination, you will have to have meet eligibility.
Credit Unions
The main thing to remember with a credit union is that you must be a member to get a loan from them.  They usually offer more favorable interest rates however. If you are a member of one, be sure to ask about what they offer as far as business loans.
Private Lenders
These are alternative lenders that usually function online, though some do have brick and mortar locations as well.  The benefit with private lenders is that they offer small business loan options to those that may not qualify with traditional lenders.  Their credit score requirements are lower. They may or may not require a certain amount of time in business or minimum revenue amounts. However, their small business loan options typically have higher interest rates. 
If you think this may be the route you need to take, here are a few options to consider. 
Upstart
Upstart is a fairly new online lender.  They question whether financial data and credit score alone can really determine the risk associated with a specific borrower.  Instead, they use a combination of AI and machine learning to gather alternative information. They then use this information to aid in credit decision making.
This alternative information may include such things as mobile phone bills, rent, deposits, withdrawals, and even other information less directly tied to finances.  Software from the company actually learns and improves on its own. 
They offer various types of financing products to fit a broad range of needs. This includes debt consolidation and personal loans, as well as business loans.
You can get a quote on a loan to start or expand a business.  Quotes are available online in a matter of minutes.  Learn more here in our comprehensive review. 
StreetShares began as a service to veterans.  Now, they offer term loans, lines of credit, and contract financing. In addition, they now offer small business loan investment options. The maximum loan amount is $250,000.   
To be eligible, you must be in business for at least 12 months with annual revenue of $25,000. Exceptions are possible, with loans to companies in business for at least 6 months having higher earnings happening on a case by case basis. The borrower's credit score must be at least 620. For more on StreetShares, see our in-depth review. 
Kabbage
Kabbage is a well know online lender. They offer a small business line of credit that can help businesses accomplish goals quickly. The minimum loan amount is $500 and the maximum is $250,000. They require you to be in business for at least one year and have $50,000 or more in annual revenue, or $4,200 or more in monthly revenue, over the previous 3 months. 
They have a non-traditional approach that puts less weight on your credit score, so they may work better for some borrowers than other lenders.
Find out why so many companies use our proven methods to get business loans.
Fundation
Fundation provides both term business loans online and lines of credit. It is most known for its working capital funding options. These are funds meant to help cover the day-to-day costs of running a business rather than larger projects. Typically, these funds come in the form of a line-of-credit.
The minimum loan amount they offer is $20,000 while the maximum is $500,000. They require you to be in business for at least 12 months and have annual revenue of at least $100,000. To be eligible, your personal credit score can't be less than 600. Additionally, you must have at least 3 full time employees. However, that can include you. Business owners cannot live or operate their business in North Dakota, South Dakota, or Nevada. 
SmartBiz
If you want the convenience of online lending but need to look toward products offered by the SBA, then SmartBiz is what you are looking for. 
With the help of the Small Business Administration, SmartBiz offers loans that are government backed. While SBA loans usually take a lot of time and paperwork, SmartBiz streamlines and speeds up the process.  This makes getting loans through the Small Business Administration easier than ever. The minimum loan amount is $30,000 and the maximum is $5,000,000.  
How to Get a Loan for a Business: A Word About SBA Loans
Speaking of SBA loans, you cannot talk about how to get a loan for a business without some discussion on the SBA.  While they do not lend funds themselves, they do administer a number of loan programs that help small businesses get the funds they need through partner lenders.   
7(a) Loans
This is the Small Business Administration's most known program.  It provides federally funded term loans up to $5 million. The funds can be used for a number of purposes.  These include expansion, purchasing equipment, working capital and more. Banks, credit unions, and other specialized institutions in partnership with the SBA process these loans and disburse the funds. 
504 Loans
504 loans are also available up to $5 million and can buy machinery, facilities, or land. Typically, they are used for expansion.  They work especially well for commercial real estate purchases. 
Microloans
These are $50,000 or less. They work well for starting a business, purchasing equipment, buying inventory, or general working capital. 
SBA disaster loans
This is a program for businesses that are victims of natural disasters.  These loans are different because, unlike the others, the SBA actually processes them directly rather than using partner lenders.   
SBA Express Loans
These are fast turnaround loans, with the SBA taking up to only 36 hours to give a decision. There is less paper work as well, which is part of what makes express loans great if you qualify. 
SBA CAPlines
There are 4 different CAPline programs.  They differ mostly in how the funds can be used. The maximum on each is $5 million.  It can take 45 to 90 days for the funding on the CAPlines to come through.  
SBA Community Advantage Loans 
This is a pilot program.  It will either expire, or the SBA will extend it in 2020. Its purpose is to promote economic growth in underserved areas and markets. Decision makers look past such things as poor credit or low revenue if the business has the potential to create jobs or promote economic growth in underserved areas. 
These are some of their most popular programs. The Small Business Administration does so much more for small businesses in addition to these.  Get more details on the SBA, these loan programs, partner lenders, and additional resources offered by the Small Business Administration here.    
How to Get a Loan for a Business: 
Step Three: Build an Application Packet
This step mostly applies for traditional lenders, traditional loans, and SBA Loans.  Most private lenders just have you fill out an application online. The idea is to anticipate what lenders will need to see and have all the information already pulled together for them.  For example, most all of them will want to see financial statements or tax returns for the past 3 years or so. They will also want to see a plan for how you will use the funds, and what results you anticipate. 
If you are thinking about how to get a loan for a business to grow, you are going to need to show them how you will use the funds to help it do that.  They will also likely want to see that you have market research that supports the idea that the market will support growth. You may be able to simply update the business plan you used when you applied for startup financing. 
How to Get a Loan for a Business: Do Your Research and Be Prepared
These really are the two best bits of advice when it comes to how to get a loan for a business.  Consider what your options are, based on your specific needs and situation. Then, research what lenders will need to approve you for whatever type of loan you need, and prepare with that in mind before you ever walk in.  
The post How to Get a Loan for a Business: A Step By Step Plan of Action appeared first on Credit Suite.