As many businesses are beginning to look at reopening, salon owners are facing a particularly unique predicament.  Merchant cash advances have long been a salon financing standard, but without credit card sales coming in and no guarantee of when they can open up, that funding source is no longer a viable option for many. 
Best Salon Financing Options
There are other options of course, but which ones work best for salon financing?  Is a term loan best?  Would credit cards work better?  How about a line of credit?  Of course, the answer depends on a number of factors. Take a look at these options, consider your own situation, and see which one will work best for you.
Credit Line Hybrid Financing: Get up to $150,000 in financing so your business can thrive.
Salon Financing: Credit Line Hybrid
One unique option is the credit line hybrid. It is easier to get than a lot of salon financing options, and you can typically get more money than with other options. It's basically revolving, unsecured financing.  It allows you to fund your business without putting up collateral, and you only pay back what you use.  
Do You Qualify? 
It's not as hard as you may think to qualify.  First, your personal credit score should be at least 685.  In addition, you can't have any liens, judgments, bankruptcies or late payments.  Furthermore, in the past 6 months you should have less than 5 credit inquiries, and you should have less than a 45% balance on all business and personal credit cards.  
If that seems daunting, don't worry.  If you do not meet all of the requirements, you can take on a credit partner that does.  Many business owners work with a friend or relative to fund their business.  If a relative or a friend meets all of these requirements, they can partner with you to allow you to tap into their credit to access funding. 
What are the Benefits?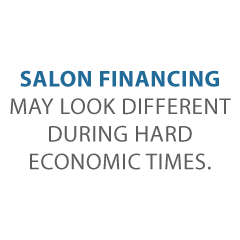 There are many benefits to using this for salon financing.  First, it is unsecured.  That means you don't have to have any collateral to put up.  Next, the funding is "no-doc."  That means you do not have to provide any bank statements or financials either.  
Better yet, typical approval is up to 5x that of the highest credit limit on the personal credit report. Often you can get interest rates as low as 0% for the first few months.  This allows you to put that savings back into your business. 
The process is pretty fast.  This is especially true if you have a qualified expert to walk you through it.  One other benefit is that the approval of multiple credit cards creates competition. This makes it easier, and even likely,, that you can get interest rates lowered and limits raised every few months. 
Funding Flexibility
In addition to these fabulous benefits, a credit line hybrid is an especially flexible form of funding.    Funds are available as needed and when needed for a variety of things, including but not limited to: 
Paying off higher interest debt.  This could allow you to lower monthly payments and increase credit score. Imagine using a 0% interest credit line to pay off a number of high interest credit cards.  You could literally save yourself hundreds of dollars a month that can then be put back into your business. 

Bridging a cash gap caused by slow collections or seasonal issues. You could never have to worry or stress about large invoices being paid slowly, or slow business in the off season, ever again.

Covering bills during a global pandemic. COVID-19 turned the whole economy on its head.  No one knows if or when it will happen again.  Funds from a credit line hybrid can help you stay above water without waiting for or just hoping you can get government relief.

Taking advantage of promotional pricing. Think about the next time your best seller goes on sale with the wholesale company, you can buy as much as you want at the promotional price because you have the funds.  

Growing and expanding your business by adding equipment, adding on to your building, or even opening a new location. 

Funding updates and repairs. Don't let things slide any longer because you can't pay for it.  Get the repairs you need, do the updates that need doing, and watch your business thrive. 

Save it for a rainy day.  Leave it alone until you need it.  No one can see into the future.  It never hurts to have a safety net.
Credit Line Hybrid Financing: Get up to $150,000 in financing so your business can thrive.
Online Lenders
Online lenders tend to work well for salon financing.  Your credit score doesn't have to be quite as high as it does with traditional banks, and the funds can be in your bank account much more quickly. There are tons out there, but some work better for salons than others.  Here are two examples that are generally favorable for salons. 
OnDeck
Obtaining financing from OnDeck is fast and simple. First, apply online.  Then, receive your decision once application processing is complete. If approved, your loan funds will go directly to your bank account. The minimum loan amount is $5,000 and the maximum is $500,000.
Just like any other online lender, they do have certain requirements to qualify for a loan.  For example, a personal credit score of 600 or more.  Also, you must be in business for at least three years. Annual revenue must be at or exceed $100,000. In addition, there can be no bankruptcy on file in the past 2 years and no unresolved liens or judgements.
Kabbage
Kabbage is a well known online lender offering a small business line of credit that can help businesses accomplish business goals. The minimum loan amount is $500 and the maximum is $250,000. They require you to be in business for at least one year.  Also, you must have $50,000 or more in annual revenue.  They will accept $4,200 or more in monthly revenue over the most recent three-month period to meet income requirement as well.
Kabbage is a go-to if you need cash quickly. Their non-traditional approach puts less weight on your credit score.  This means they may work well for borrowers that still have some work to do in that department.
Credit Cards
Just like online lenders, some credit cards work better for salons than others.  There are dozens out there.  It takes some research to determine which ones may work best for your salon financing needs.  Here are a couple that tend to work well to help get you started. 
Blue Business® Plus Credit Card from American Express
Check out the Blue Business® Plus Credit Card from American Express. It has no yearly fee and there is a 0% introductory APR for the initial twelve months. After that, the APR is a variable 14.74 to 20.74%.
Get double Membership Rewards® points on everyday business purchases.  These include office supplies or client dinners.  This applies to the first $50,000 spent annually. Get 1 point per dollar afterwards.  You'll need great credit to qualify. 
Capital One® Spark® Classic for Business
Consider the Capital One® Spark® Classic for Business. It has no yearly fee, but there is also no introductory APR offer. The regular APR is a variable 24.49%. You can earn unlimited 1% cash back on every purchase for your company. There is no minimum redemption requirement either.
This card is within reach if you have fair credit, but beware of the APR. Still, if you can pay on schedule, and completely, then it's a great deal.
SBA Funding
We all know the emergency SBA funding in response to COVID-19 has been a debacle, but their regular loan programs are still available.  Some of them can work well for salon financing. 
7(a) Loans
This is the Small Business Administration's most popular loan program. One reason is, it offers federally funded term loans up to $5 million. In addition, the funds can be used for expansion, purchasing equipment, working capital and more. Banks, credit unions, and other specialized institutions, in partnership with the SBA, process these loans and disburse the funds.
The minimum credit score to qualify is 680.  Also, there is a required down payment of at least 10% for the purchase of a business, commercial real estate, or equipment. Lastly, the minimum time in business is 2 years. In the case of startups, business experience equivalent to two years will do the trick.
Funds are available for a wide variety of projects, from working capital to refinancing debt.  You can even buy a new business or real estate.
504 Loans
These loans are available up to $5 million and can buy machinery, facilities, or land. For the most part, they are for expansion. Private sector lenders or nonprofits process and disburse these loans. They especially work well for commercial real estate purchases.
Terms for 504 Loans range from 10 to 20 years.  Unfortunately, funding can take from 30 to 90 days. They require a minimum credit score of 680, and collateral is the asset the loan is financing. Furthermore, there is a down payment requirement of 10%, which can increase to 15% for a new business.
Another requirement is that you be in business for at least 2 years, or that management has equivalent experience if the business is a startup.
Microloans
Microloans are available in amounts up to $50,000. They work for starting a business, purchasing equipment, buying inventory, or for working capital. Community based non-profits administer microloan programs as intermediaries. Unlike the others, financing comes directly from the Small Business Administration.
Credit Line Hybrid Financing: Get up to $150,000 in financing so your business can thrive.
SBA Express Loans
These loans max out at $350,000.  Moreover, they have a maximum interest rate of 11.50%. Terms range from 5 to 25 years.  In contrast to the others, the SBA guarantee is less, at 50%. To qualify, your credit score must be above 680.  Also, you must have a debt to service ratio of 1.1 or higher. If the loan is greater than $25,000, collateral may be necessary depending on the lender.
The turnaround for express loans is much faster.  In fact, SBA takes 36 hours or less to give a decision. Not only that, but the necessary paperwork for application is less also.  This makes express loans a great option for working capital, among other things, if you qualify.
A Quick Note on Equipment Financing
If you need to buy equipment for your salon, like chairs, tools, or sinks, any of these options will work.  However, it's possible that specific equipment financing options may work even better.  These are small busienss loans in which the lender lends a portion of the quoted cost for the equipment you wish to purchase. 
Equipment loans are different because the asset you are purchasing is the security for the loan.  This makes equipment loans easier for those who do not have great credit or for borrowers that want to reduce their guarantee.
Is Your Salon Fundable? 
One of the best ways to ensure you can get salon financing when needed is to work on the fundability of your salon.  This includes a lot more than credit score.  It has to do with how your business is set up, how all of your personal and business records line up, and what information is available to lenders about your business from various sources.  It's wise to do an analysis of fundability to ensure that your ducks are in a row.
In the meantime, it's easy to make sure your business is set up to be fundable.  Consider the following: 
Do you have a separate business phone number and address?  This is necessary to fundability and business credit. 

Do you use an EIN to apply for business credit rather than your personal SSN?  You can get one for free at

IRS.gov

if you don't already have one. 

Is your business incorporated?  It's non-negotiable.  You must be incorporated to build fundability and business credit. 

Do you have a separate business bank account?  That's necessary as well, for a number of reasons, including building fundability and business credit. 

Make sure you have all the licenses required to operate your business at all levels. 
Of course, this list is not exhaustive, but it is a great start and you can work on it now.  
Salon Financing is Out There, You Just Have to Know What You are Looking For
The truth is, these post COVID-19 times are hard for everyone, and salon financing may look different during hard economic times.   It is available, but you have to know which type of funding will work best for you.  Often a term loan isn't an option, and even more often it isn't the best option.  A credit line hybrid works well for almost anyone, and it comes with the bonus of potentially helping to build business credit. 
In the end, the answer depends on what you qualify for and what works best for your specific situation.  Research is key, and increasing your fundability always helps.
The post Best Options for Salon Financing in A COVID-19 World appeared first on Credit Suite.