You need to know how to build business credit without using personal credit. It's possible, but you have to start at the beginning and work through the process. 
How to Build Business Credit Without Using Personal Credit: There is More to the Process than You May Imagine
That's right, there is a process for how to build business credit without using personal credit.  Just like any process, you can't start in the middle. You can't start at the end. There is no other place to start and make it work than the beginning. 
How to Build Business Credit Without Using Personal Credit: Set Your Business Up to Be Fundable
The first step in how to build business credit without using personal credit is to separate your business from yourself.  Until you do that, your personal credit will come into play every time. Your business has to be a separate, fundable entity all on its own.  How do you make this happen?
Set Up Separate Contact Information
First, make sure your business has its own phone number, fax number, and address.   That doesn't mean you can't run your business from your house.  There are ways to separate contact information and still do that.
Check out our best webinar with its trustworthy list of seven vendors to help you build business credit.
In fact, you can get a business phone number and fax number that will work over the internet instead of phone lines.  Also, the phone number will forward to any phone you want it too so you can simply use your personal cell phone or landline.  
Furthermore, you can use a virtual office for a business address. That is different than what you may think. A virtual office is a business that offers a physical address for a fee.  Sometimes they even offer mail service and live receptionist services.  In addition, there are some that have meeting spaces for when you  need to meet a client or customer in person. 
EIN
Next, you have to get an EIN. As you may know, that's an identifying number for your business that works similar to how your SSN works for you personally.  You can get one for free from the IRS.
Incorporate
Not surprisingly, incorporating your business as an LLC, S-corp, or corporation is necessary for separation.  In addition, iIt lends credibility to your business as one that is legitimate. It also offers some protection from liability. 
The truth is, which option you choose relates more to your budget and protection needs.  In fact, the best thing to do is talk to your attorney or a tax professional when making that decision.  
You Need a Separate Business Bank Account
Why?   First, it will help you keep track of business finances.  It will also help you keep them separate from personal finances for tax purposes. 
There's more to it however.  There are several types of funding you cannot get without a business bank account.  Many lenders and credit cards want to see one with a minimum average balance.  In addition, you cannot get a merchant account without a business account at a bank. That means, you cannot take credit card payments.  Studies show consumers tend to spend more when they can pay by credit card.
Licenses
A legitimate business has all of the necessary licenses it needs to operate legally.   If it doesn't, warning signals are going to alert lenders that there may be a problem. Make sure you have all of the licenses necessary to legitimately run your business at the federal, state, and local levels. 
Website
You might as well not exist if you don't have a website.  However, having a website that looks unprofessional or isn't user friendly can be even worse. Often, this is the first impression you make.  If it appears to be unprofessional that will be bad.
Spend the time and money necessary to ensure your website is professionally designed and works well.  Pay for hosting too. Don't use a free hosting service.  Along these same lines, your business needs a dedicated business email address.  Make sure it has the same URL as your Website. Don't use a free service such as Yahoo or Gmail. 
How to Build Business Credit Without Using Personal Credit: Get Initial Accounts Reporting
Now that your business is separate and can have its very own credit, you have to get accounts reporting.  This is the crux of how to build business credit without using personal credit. There are a few ways to do it. 
Ask Current Vendors to Report Payments to Credit Agencies
Vendors you already work with may be willing to extend credit without a credit check.  If not, they may give you net terms on invoices.   The worst they can say is no.  If they say yes, ask them to report the payments to the business credit agencies.
Check out our best webinar with its trustworthy list of seven vendors to help you build business credit.
Ask Monthly Service Providers to Report Payments
You already pay utilities, rent, and internet each month.  Ask those providers to report your payments to the business credit reporting agencies.  If they say yes, make certain your accounts are set up in your business name with your business contact information.  Then, those payments will help build business credit.
Work with Starter Vendors

Starter vendors are the key to how to build business credit without using personal credit.  They are part of what we like to call vendor credit.  These are certain retailers that will extend Net 30 terms in your business name without a credit check.  Then, after you pay, they will report those payments to the business credit report agencies (CRAs). 
This starts a sort of snowball effect for building business credit.  They do not check your credit score, so it doesn't matter that it may not be great.  As you make these payments responsibly and they are reported, you begin to build positive business credit history.
How to Build Business Credit Without Using Personal Credit: Work Through Getting More Credit

There are actually more kinds of credit beyond vendor credit.  You have to work through them in order. Once you get enough initial accounts reporting from vendor credit, you can apply for revolving store cards (AKA retail credit).  These are vendors as well, but they do check your business credit. 
Generally, these are credit cards limited to use at the stores that issue them.  For example, Office Depot cards can only be used at Office Depot. Best Buy cards can only be used at Best Buy.  
After retail credit comes fleet credit.  This includes fleet credit cards that are limited to use for fuel and auto repair and maintenance costs. Examples include fleet cards issued by Shell, Fuelman, and WEX.
After this comes more universal cash credit.  If you have enough accounts and you handle them responsibly, you should qualify for approval here.  It includes general business credit cards that are not limited to where you can use them or what you can use them on. Often, they even have nice rewards such as cash back. 
Business Credit is Just a Piece of A Much Larger Puzzle
Of course, when it comes to funding your business, business credit isn't the only thing that makes a difference.  It is arguably the biggest factor, but other things come into play as well. You need to know what those things are so you aren't going in blind.
Other Business Data Agencies 
There are other business data agencies that affect credit reports indirectly.  Two examples include LexisNexis and The Small Business Finance Exchange. These two agencies collect data from various sources, including public records.  That means, they could have access to information relating to automobile accidents and liens, among other things. I think you'll agree that most business owners do not expect things like this to affect their ability to get funding. However, it can. 
While you may not be able see or make changes to the data these agencies have on your business, you can make sure that any new information they receive is positive.  Enough positive information can help counteract any negative information from the past. 
Identification Numbers 
Other than the EIN, there are identifying numbers that go along with your business credit reports.  You need to be aware that these numbers exist.  Some of them are assigned by the agency, like the Experian BIN.  At least one, however, you have to apply to get. It is absolutely necessary that you do this. 
Dun & Bradstreet is the largest and most commonly used business credit reporting agency.  Every credit file in their database has a D-U-N-S number.  To get a D-U-N-S number, you have to apply for one through the D&B website. If you do not, you will not have a credit report with D&B.  When a lender tries to pull your business credit score from them, it will not be there, no matter how well you have paid your business accounts.
Business Information
On the surface, it seems obvious that all of your business information should be the same everywhere you use it.  However, when you start changing things up, you may find that some things slip. 
This is a problem.  A ton of loan applications are turned down each year due to fraud concerns because  things do not match up.  Maybe your business licenses have your personal address but now you have a separate business address.  Change it. Perhaps some of your credit accounts have a slightly different name or a different phone number listed than what is on your loan application. Do your insurances all have the correct information?  
The key to this piece of the business fundability is to monitor your reports regularly.   
Financial Statements
This encompasses a broad spectrum of things.  First, there is the obvious. Both your personal and business tax returns need to be in order.  Not only that, but you need to be paying your taxes, both business and personal.   
Business Financials
It is best to have an accounting professional prepare regular financial statements for your business. Having an accountant's name on financial statements lends credence to the legitimacy of your business. If you cannot afford this monthly or quarterly, at least have professional statements prepared each year. 
Personal Financials
Often tax returns for the previous three years will suffice.  Get a tax professional to prepare them.   This is the bare minimum you will need.  Other information you may need could include check stubs and bank statements, among other things. 
Bureaus
There are several other agencies that hold information related to your personal finances that you need to know about.  Everyone knows about FICO.  Your personal FICO score needs to be as strong as possible. It really can affect business fundability and almost all traditional lenders will look at personal credit along with business credit. 
In addition to FICO reporting personal credit, there is ChexSystems.  In the simplest terms, they keep up with bad check activity.  This makes a difference when it comes to your bank score.  If you have too many bad checks, you will not be able to open a bank account.  That will cause serious fundability issues. 
Everything is fair game.  Have you ever been convicted of a crime? Do you have a bankruptcy or short sell on your record?  How about liens or UCC filings? All of this can and will affect the fundability of your business. 
Personal Credit History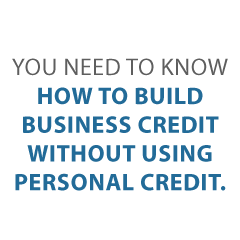 Even once you know how to build business credit without using personal credit, your personal credit score matters.  It has to be in order because it will definitely affect the fundability of your business.  Work on improving it while you're building business credit without it.  The number one way to get a strong personal credit score or improve a weak one is to make payments consistently on time. 
Also, make sure you monitor your personal credit regularly to ensure mistakes are corrected and that there are no fraudulent accounts being reported. 
Application
Consider the timing of the application.  Is your business currently fundable?  If not, do some work first to increase fundability. Next, ensure that your business name, business address, and ownership status are all verifiable.  Lenders will check into it.  Lastly, make sure you choose the right lending product for your business and your needs. Do you need a traditional loan or a line of credit? Would a working capital loan or expansion loan work best for your needs?  Choosing the right product to apply for can make all the difference.
Check out our best webinar with its trustworthy list of seven vendors to help you build business credit.
How to Build Business Credit Without Using Personal Credit: It Is Possible
You need to know how to build business credit without using personal credit, especially if your personal credit is bad. However, you cannot just ignore personal credit.  It affects the fundability of your business as well as many other factors. Take the time to improve your personal credit and evaluate the other pieces of your complete fundability picture while building business credit.  Then, you will always be able to get the funding you need.
The post How to Build Business Credit Without Using Personal Credit appeared first on Credit Suite.