There are so many different types of business loans out there, it can be hard to figure out which type you actually need. Even harder is figuring out which type you actually qualify for.  For example, if you need to buy new equipment, equipment loans would seem to be the way to go, right? Even then, do you go with SBA loans, traditional loans, private lenders? 
SBA Loans for Equipment Loans: When Do You Need One and What to Do When You Don't Qualify
The truth is, it's not always so simple.  Sometimes, traditional loans work best for equipment purchases.  However, there are occasions when other options may fit your specific situation. But, when are those times? Furthermore, what are the other options?
Credit Line Hybrid Financing:  Get up to $150,000 in financing so your business can thrive.
SBA Loans for Equipment: What are Equipment Loans?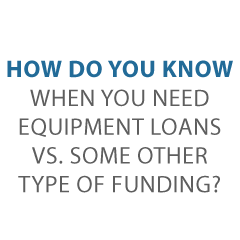 Equipment loans, whether SBA loans or not,  are loans that are secured by the equipment being financed. For example, if you bought a new industrial freezer and financed it with an equipment loan, then the freezer would serve as collateral for that loan.  
The beauty of equipment loans is that you get the lower interest rates and better terms that typically come with secured financing.  The problem is, that isn't always enough to qualify. 
SBA Loans for Equipment: What Qualifies as Equipment?
Equipment is not attached to the property, but the assets are longer term generally speaking. This includes things like heavy duty copy machines, industrial freezers and ovens, and more. These things can be used as collateral to secure a loan to purchase them.  
SBA Loans for Equipment: When Do Equipment Loans Work Better Than Other Loans? 
Using the equipment as security doesn't get you out of needing to meet requirements like minimum credit score and income.  However, if you do meet these requirements and therefore qualify for the loan, the collateral can help you snag better terms.  Interest rates will almost definitely be lower, depending on other factors. 
SBA Loans for Equipment: Other Options for Equipment Loans? 
What if you don't meet traditional requirements for equipment loans? There are other options. 
SBA Loans:  Options for Equipment Loans
The SBA has a few loans programs that work well for equipment financing. 
7(a) Loans
This is the main program at the Small Business Administration. Through it, borrowers can get federally funded term loans up to $5 million. This money is available  for expansion, working capital, and other things as well as, purchasing equipment. Banks, credit unions, and other specialized institutions in partnership with the SBA process these loans and disburse the cash.
The minimum credit score to qualify is 680. There is also a required down payment of at least 10% for the purchase of a business, commercial real estate, or equipment. The minimum time in business is 2 years. In the case of startups, business experience equivalent to two years will work.
This is the most popular SBA loan program.  THis is due in part to the fact that funds are allowed to be used toward a broad range of projects, including buying equipment.
504 Loans
The 504 loan program offers loans up to $5 million.   Money can buy equipment, as well as  facilities or land. Generally, these loans are  used for expansion. Private sector lenders or nonprofits process and disburse the funds. This program works well for commercial real estate purchases especially, but also for equipment.
Terms for 504 Loans range from 10 to 20 years, and funding can take from 30 to 90 days. They require a minimum credit score of 680, and collateral is the asset it is financing. There is also a down payment requirement of 10%, which can increase to 15% for a new business.
There is a requirement you be in business at least 2 years, or that management has equivalent experience if the business is a startup.
Credit Line Hybrid Financing:  Get up to $150,000 in financing so your business can thrive
Microloans
Microloans are just what they sound like.  They are small loans, up to $50,000, that can be used to purchase equipment, start a business, buy inventory, or just as working capital.  Community based non-profits administer microloan programs as intermediaries.  The financing comes directly from the Small Business Administration. They can take upwards of 90 days to fund, and the minimum credit score is 640.
Credit Line Hybrid
If SBA loans will not work for your equipment needs, a credit line hybrid might.  It allows you to fund your business without putting up collateral.  Furthermore,you only pay back what you use.  It is unsecured, no-doc funding.  That means you do not have to turn in any financials. 
How hard is it to qualify?  Not as hard as you may think.  You need good personal credit, but that is relative.  Your personal credit score should be at least 685, which is lower than what is required by most traditional lenders.  In addition, you can't have any liens, judgments, bankruptcies or late payments.
Also, in the past 6 months you should have fewer than 5 credit inquiries.  You need to have less than a 45% balance on all business and personal credit cards as well.  It's preferred that you have established business credit, but not absolutely necessary.
Now, if you don't meet all of the requirements, you can take on a credit partner that does.  Many business owners work with a friend or relative to fund their business.  If a relative or a friend meets all of these requirements, they can partner with you to allow you to tap into their credit to access funding. 
Credit Line Hybrid Benefits
There are a ton of benefits to using a credit line hybrid.  Most notably, it is unsecured, meaning you do not have to have any collateral to put up.  Then, as mentioned, the funding is "no-doc."  This means you do not have to provide any bank statements or financials.  
Not only that, but typically approval is up to 5x that of the highest credit limit on the personal credit report. Additionally, often you can get interest rates as low as 0% for the first few months, allowing you to put that savings back into your business. 
The process is pretty fast. One other benefit is this.  The approval for multiple credit cards creates competition. This makes it easier, and even likely if you handle the credit responsibly, that you can get interest rates lowered and limits raised every few months. 
Online Lenders for Equipment Loans?
Another option if SBA loans will not work is an online lender.  This is especially true if your personal credit score isn't great.
Even if you have great business credit, most term loans and many lines of credit require a personal credit check.  They may take your business credit into account, but if your personal credit stinks, it won't help you much. Online lenders tend to have lower minimum personal credit score requirements than traditional lenders. 
An added  benefit is, an online lender will typically send you the funds faster.  Sometimes you can have the money in as little as a few days, with approval coming in as little as 24 hours.  
An Online Lender Could be the Answer to Your Funding Needs
If you can go with a traditional lender, great.  They often have better rates and terms.  However, if you, like many business owners, do not have that option, an online lender may be the perfect solution for equipment financing.  Approval requirements allow many more borrowers to get their funds quickly and easily.  Take into account the following factors: 
How much do you need? 

What do you need the funds for? 

What is your credit score? 

How much of a payment/ interest rate can your budget handle? 
It's also important to note, there are a lot of predatory lenders online.  You have to be careful. The list above is a great starting point, but don't stop there.  There are a lot of options, so be sure to research. 
Some of our Our Best Picks for Online Lenders
Fora Financial
Founded in 2008 by college roommates, online lender Fora Financial now funds more than $1.3 million in working capital around the United States. There is no minimum credit score, and there is an early repayment discount if you qualify.
The minimum loan amount is $5,000 and the maximum is $500,000. The business must be at least 6 months in operation and the monthly revenue has to be $12,000 or more. There can be no open bankruptcies.
OnDeck
Obtaining financing from OnDeck is quick and easy. First, you apply online and receive your decision once application processing is complete. If you receive approval, your loan funds will go directly to your bank account. The minimum loan amount is $5,000 and the maximum is $500,000.
Just like any other online lender, they do have certain requirements to qualify for a loan.  For example, a personal credit score of 600 or more.  Also, you must be in business for at least one year. Annual revenue must be at or exceed $100,000. In addition, there can be no bankruptcy on file in the past 2 years and no unresolved liens or judgements.
Kabbage
Kabbage is an online lender. They offer a small business line of credit that can help businesses meet their goals quickly. The minimum loan amount is $500, and they do not exceed $250,000. You must be in business for at least one year and have $50,000 or more in annual revenue, or $4,200 or more in monthly revenue, over the last 3 months.
Kabbage is  great if you need cash quickly. Also, their non-traditional approach puts less weight on your credit score, so they may work better for some borrowers than other lenders.
Rates start at 6% and go up to 22%. APR works out to 8 to 25%, and there is a 3 to 5 % origination fee.
Advantages are the soft credit pull and the fact that they will look at factors other than your personal credit if your FICO score is low. Another benefit is that Bond Street can offer very large loans if you qualify. Disadvantages are the longer time in business requirement and high APR.
Credit Line Hybrid Financing:  Get up to $150,000 in financing so your business can thrive.
Lending Club
Popular online lender Lending Club offers term loans. Business loans from $5,000 to $300,000. Loan terms are 1 to 5 years.
Get a quote in less than 5 minutes. Funds are available in as little as 48 hours if approved. There are no prepayment penalties.
Annual Revenue must be $75,000 or more. You must be in business for 2 years or more. Personal FICO score of 620 or better is required.
Rates of 5.99% to 29.99%. Total annualized rates starting at 8%.
Advantages are that the annual revenue requirement isn't too high. Funds are available quickly. Disadvantages include high maximum rates.
Funding Circle
Funding Circle is a way to apply for SBA funds online.  To get started with Funding Circle, you must meet the following requirements. 
In business for more than 3 years

At least $500,000 in annual revenue

No federal tax liens

680 FICO for personal Guarantor

Positive book value (assets > liabilities)
SBA Loans are Just One Way to Finance Equipment
Traditional equipment loans are the lowest cost way to finance equipment.  They won't work for everyone though.  If they will not work for you, there are other options. The SBA offers loan programs that work well for equipment financing, and online lenders can be a possibility as well.  
Perhaps the most unique and under-utilized option is the credit line hybrid.  When you use this option, you do not have to use the equipment as collateral, and sometimes you can get 0% interest, at least initially. 
It will likely take some time to figure out which option for equipment loans will work best for your business.  The first step is finding out that there are, in fact, options.
The post SBA Loans for Equipment Loans? appeared first on Credit Suite.