A grant is a great way to fund a business. It's free money. You don't have to pay it back. However, grants are highly competitive, so you need every advantage you can get. In addition, you need a backup plan in case you do not get it, or if it's not enough money. Here are some tips to help increase your chances of getting a women owned business grant. 
Learn business loan secrets and get money for your business.
Top Tips to Increase Your Chance of Landing A Women Owned Business Grant
All grant programs are highly competitive.  Still, they are still worth the effort to apply.  Truly, there really isn't anything to lose except time and application fees, which are typically minor.  A women owned business grant will rarely be enough to fully fund a business.  Yet, it may supplement other funding types. Not only that, but often winners receive other support such as mentoring and networking  opportunities. 
5 Hacks to Increase Your Chances of Winning a Women Owned Business Grant
Of course, there are no guarantees.  But, there are some things you can do to increase your chances of winning a grant. 
1. Don't Waste Your Time on the Wrong Grant
Most grant application processes take a significant amount of time and preparation. Don't waste your time applying for every women own business grant out there.  Be intentional to find those that you have the best chance at winning.  For example, if you own a restaurant, don't apply for a grant meant for tech businesses. Rather, pay attention to the requirements and only fill out applications for those that you qualify to win. 
2. Do Your Research
Take the time to study up on the history of the program, past winners, and anything else you can think of to learn about the grant. There are a few ways this can help you. First, you may be able to see what past winners have in common and aim to show the decision makers you have similar qualities. It can give you direction when it comes to working on your application materials. 
But also, if there is an interview, it can give you background knowledge. This can only help you. 
3. Have a Complete Business Plan
Most people think of business plans more in terms of applying for a loan. However, it is vital to grant applications as well.  You want to convince the award committee that your business is worth it. Honestly, having a complete, professional business plan goes a long way toward that goal. 
4. Customize Your Business Plan for the Grant
There is no need to use the exact same plan, verbatim, for each grant application. You've done the research. You've seen who won each  grant in the past. Now, it's time to show what you know, and why you should be next.  Make certain to include information that the grant specifically asks for. If you share any qualities of previous winners, slip that in.  Show them what other funding sources you have. Tell them how you intend to spend the grant funds if you win.  Put your best foot forward, this is your time to shine. 
5. Don't Let Time Run Out
Start now researching grants you may be interested in. Pay attention to when applications open and close, and don't let something simple knock you out of the running. With competition being so fierce, application acceptance after a deadline is virtually unheard of. Also, some grants have more than one deadline with different aspects of the application being due at different times. Pay attention.
Where to Find a Women Owned Business Grant
Now, you need a women owned business grant, or a few, to apply for. Start with these, but the buck doesn't stop here. There are plenty of local and state options, as well as grants that are not limited by location or type of business owner.  There are minority business grants that you may qualify for as well. 
SBA Women's Business Centers
In addition to helping with loans, the SBA Women's Business Centers also help women entrepreneurs get access to other types of funding. Some lend money or award grants directly, while others help connect women entrepreneurs with financial institutions.  Take a look at their website to find out more on how to apply for women owned business grants through this network.
Eileen Fisher Women Owned Business Grant
The clothing brand Eileen Fisher hands out $100,000 per year to 10 women-owned businesses. To qualify, a woman must have at least 51% ownership, and the business must be in operation for at least three years. Also, it must bring in less than $1 million per year in revenue and have a focus on environmental or social change.  
Amber Grant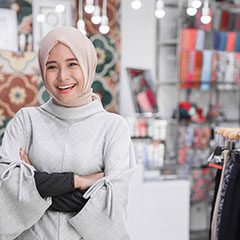 The Amber Grant awards $500 to $1,000 per month to a woman-owned business. One of the recipients also receives an additional $10,000 grant at the end of the year. Applicants only need to tell their story and turn it in with a $15 application fee.  
Cartier Women's Initiative Award
The Cartier Women's Initiative Award is $100,000 for first place and $30,000 for second place.  They award the grant to 18 female business owners from around the world each year.  Women business owners who are just getting started may qualify. 
All of the finalists get to attend the INSEAD Social Entrepreneurship 6-Day Executive Program (ISEP). They will also have the opportunity to participate in workshops on entrepreneurship and business coaching seminars, as well as be exposed to networking opportunities.  
Tory Burch Fellowship Program
The Tory Burch Fellowship Program offers an amazing opportunity for up to 50 winners. An applicant must be a woman-identifying entrepreneur with at least a 51% stake in a qualifying business, or the largest equal stake if it is owned 100% by women. 
Applicants must also speak proficient english and be a legal U.S. resident. Nonprofits, ventures in the idea stage, and franchises or subsidiaries are not eligible. 
Applications open in the fall, and winners receive a $5,000 grant in addition to a one-year fellowship that includes virtual education, workshops, and guidance. 
Learn business loan secrets and get money for your business.
Women Founders Network Fast Pitch Contest
The Women Founders Network offers this unique opportunity each year to female founders. What makes it  different is the leadership, coaching,  and in-kind sponsorships that are included in addition to the cash prices.  The contest also draws the attention of investors, which offers the opportunity to raise even more capital. ​
A Women Owned Business Grant is Not The Only Answer
While these programs work to meet the unique challenges faced by women business owners, sometimes it just isn't enough. You need a backup plan.   Here are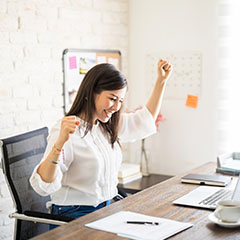 some other funding options that can supplement grant funds, or even replace them if your business isn't chosen as a recipient.  
Grameen
Grameen is one of the few lenders that offers microloans specifically for women.  The loan amounts range from $2,000 to $15,000, and they also offer financial training and support.  
The Credit Line Hybrid
The Credit Line Hybrid is a form of unsecured business financing.  It is available to pretty much anyone for any type of business expense. You can use it for real estate, equipment, working capital, and even startup expenses.   There is no down payment, and you do not have to provide income documentation. It is completely no-doc financing.  A credit score of 680 or higher is necessary, and there are some other requirements. However, if you do not meet them you can take on a credit partner that does. 
You can get up to $150,000, and often interest rates are as low as 0% for the first 6 to 18 months.  
Learn business loan secrets and get money for your business.
SBA Enterprise Loans
You need to have collateral worth up to at least 50% of the loan amount, but you only need a FICO of 620.  There also can be no bankruptcies in the past 4 years.  Only for profit companies qualify, and they must have positive trends in sales growth. Generally amounts are available of up to $12 million with terms up to 25 years. 
The BEST Way to Ensure You Can Always Get the Business Funding You Need
Remember, you are always going to need funding. Furthermore, grants are not going to be the answer every time. Loans, credit lines, and other financing options are likely going to be necessary throughout the life of your business.  
The best way to ensure you have access to these when you need them is to make certain your business's overall fundability is in order. The thing is, that isn't as easy as it may seem. There are over 100 factors that affect fundability. 
Unfortunately, it's a complicated puzzle to piece together. Thankfully, you can save time and money by working with a business credit expert. They can help you evaluate your current fundability, help you improve it if necessary, and  guide you toward the best funding options for your business right now. Get started with a free consultation with one of our business credit experts today.
The post How and Where to Get a Women Owned Business Grant appeared first on Credit Suite.
The post How and Where to Get a Women Owned Business Grant appeared first on #1 SEO FOR SMALL BUSINESSES.
The post How and Where to Get a Women Owned Business Grant appeared first on Business Marketplace Product Reviews.