Whether you are looking to extend an existing fleet or enhance what you've got or are just starting up, having bad credit can make it tougher to get financing. Fortunately, there is trucking loans with bad credit out there.
The open road means freedom—but you need to get there first. And trucking loans with bad credit is the best way to get there if your FICO credit score could stand to be improved.
Here are some of our favorite providers.
Truck Loan 1 – Commercial Truck Financing from CAG Truck Capital
CAG Truck Capital offers only truck financing and has developed its specialty over the last four decades. They will do more than perform a credit check and treat each truck driver and their financing needs individually.
They will work with preexisting owner-operators, startups, and any trucking company looking to finance a big hood. 
They will only do a soft credit pull for pre-approvals. CAG will finance long hood trucks of any age (2000 or newer). There are no mileage restrictions on long-hood trucks (Pete 379, 389, Kenworth W900L, etc.). 
Your down payment can be as low as 20% for well-qualified and established owner-operators. They offer loans with built-in certified overhaul financing for high-mileage trucks.
CAG specializes in helping owner-operators with challenged credit that would immediately disqualify them from other lenders. However, applicants with under a 600 credit score or bankruptcy may not be eligible for great credit down payment levels,
But they can often still approve poor credit financing with start-ups, bankruptcy, tax liens, or credit scores under 600. But these conditions may require an additional down payment, depending on your situation.
You will have to put down 20% as a minimum in cash or trade. They will want to know your personal mortgage situation and may require that you put up one of your trucks for collateral if you are already an owner.
They are also looking for two supplier references.
Truck Loan 2 – Heavy Equipment Financing Through First Capital Business Finance
First Capital offers bad credit truck loans for cement trucks, dump trucks, and more. 
For bad credit and average credit programs (startups & existing businesses), their lowest down payment option requires:
Two months' payments due at closing – $10,000 to $50,000

540 credits or better

Startups are accepted

You must provide 2 years of personal/business tax returns

There is no age limit, but your truck cannot have more than 750,000 miles on it

Especially good for sleepers and day cabs
With a 600 credit score and with good payment history, their lowest down payment option requires:
One to two months' payments due at closing, $10,000 to $100,000.

Startups are acceptable but with limitations on the amount they will finance amount

There are no age or mileage restrictions, but this is for short-haul only
For a 620 credit score, there are lower down payment options. The particulars differ, depending on the time in business, the type of truck, and the number of trucks in your fleet.
For moderate down payments, your credit scores will need to be 620 or better although some options require 650 or 670 or better.
And for a large down payment, there are no minimum credit scores, so bad or good credit isn't even an issue. 
Truck Loan 3 – Semi Truck Financing from Commercial Fleet Financing
Commercial Fleet Financing will check credit but can provide a different financing option if your credit score could be better.
They offer flexible terms and can get cash to you in as little as 24 hours. Most transactions are loans and not leases. Therefore, you receive the title once you have made the last payment. If you have chosen to lease your truck, trailer, or equipment, you will have a defined buyout option.
Terms are generally 36, 48, or 60 months. But they can go for as long as 108 months (9 years), depending on the type of equipment and equipment financing. 
In addition to their application, they may request additional business information such as bank statements and/or tax returns.
In addition to credit history, they like to review the buyer's order of the equipment you are purchasing. This is to make sure it has a clean title and is in good working order.
In general, they want to see a 640 or better FICO score. Depending on your time in business, you might not have to provide a personal guarantee. For deals below $150,000, they do not need to check your tax returns.
They even offer commercial truck loans if you are buying from a private seller.
Truck Loan 4 – A Trucking Loan from the SBA via Balboa Capita
Balboa Capital can offer you an SBA loan and you can use it for semi-truck financing. Get up to $5 million with a 7(a) trucking company loan.
Because this form of financing comes from the SBA, it is not an unsecured business loan. It is a term loan. The SBA wants to see good personal and business credit, so it isn't exactly a bad credit truck loan. 
A 7(a) loan can be used for short- and long-term working capital. You can also refinance current business debt with this form of truck financing. But you will need to use other forms of truck financing and invest equity before you can semi truck funding this way.
Balboa makes an effort to reduce the turnaround time, as SBA loans can normally take months. 
They also offer equipment funding for semi truck financing. Get a one-hour approval decision during normal business hours. Flexible terms are available, as is same-day funding if approved. 
Application-only for hard collateral up to $500,000, and application-only for soft collateral up to $350,000. Monthly payments are predictable.
Balboa Capital will also structure and deliver commercial financing solutions for middle-market companies with revenues above $10 million.
 Truck Loan 5 – A TRAC Lease from Trans Lease
Trans Lease offers this somewhat unique form of leasing to semi-truck drivers. A TRAC (Terminal Rental Adjustment Clause) lease is a lease on a titled asset intended for commercial use more than 50% of the time.
Unlike a commercial truck loan which often requires 5 – 20% down, this type of commercial truck financing does not require a large down payment. The lease has a lower barrier of entry. You get the equipment needed for your business and keep more money.
Your monthly payment is tax deductible. Unlike a semi truck loan which requires the entire amount of sales tax due at registration, here the amount due will be spread across your stream of payments. You pay the tax slowly over the life of the lease instead of all at once.
At the end of this form of commercial truck financing, you can purchase the commercial vehicle for a predetermined residual value. Or continue to lease until you buy, making it essentially a commercial trucking business loan. 
Or end this type of semi truck financing by selling the vehicle or having Trans Lease sell it. All these choices make this form of commercial vehicle financing a great small business loan when you want to buy or lease a semi-truck.
Truck Loan 6 – A Merchant Cash Advance from Credibly
Credibly offers MCAs to small businesses. However, keep in mind that an MCA is an advance on future credit card sales. But not every semi-truck company is in a position to make a lot of credit card sales. If yours does not, then invoice financing may be more your speed.
Does your trucking business take credit cards, perhaps for local companies to engage you to perform deliveries? If you have regular credit card sales, then turn to Credibly for this form of truck financing.
Get up to $400,000. Your remittances are tied directly to your semi truck business's receivables. Get approval in as little as four hours, and pay factor rates that are currently 1.09.
Because MCAs are only tied to future credit card sales and receivables, you don't need to have good credit to qualify for this form of semi-truck financing.
Credibly also offers a business line of credit. With a line of credit, you only pay interest on the amount you actually use. Credibly has both unsecured and secured options, for up to $250,000. 
For a line of credit, Credibly's criteria are:
560 or better personal credit score

6 or more months in business – located in the United States

$50,000 or more in annual revenue
Truck Loan 7 – An Operating Lease from TruckLenders USA
TruckLenders USA offers several types of lease options. With an operating lease, you may be able to deduct the lease as an operating expense. It also gives you the advantages of enhanced cash flow and lower monthly payments. Or get equipment financing.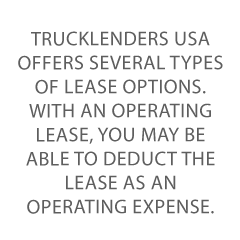 All equipment financed must fit the following criteria to qualify:
Trucks must be 7 years old or newer

Trailers must be 7 years old or newer

Equipment must be within 10% of comparable values

The minimum financed amount is $15,000.

Equipment must have a proven and accessible used-vehicle market
Qualified applicants must:
Have a minimum credit score of 675

2 or more years minimum verifiable time in business

Commercial truck references

A current bank account in their personal name or in the name of their business
Sleeper trucks have special requirements in that there is a minimum fleet requirement of 3 trucks.
As an alternative to an operating lease, a capital lease may be your answer if long-term ownership is your goal. Typical end-of-lease purchase prices range between $1 and 10% of equipment cost.
Keep in mind that, due to the minimum credit score requirement, truckers with truly poor credit are not likely to qualify for this type of business lending.
Truck Loan 8 – Owner-Operator Lending from Mission Financial Services
Mission Financial Services offers loans directly to a vehicle's owner-operator. They will lend to first-time owner-operators, drivers with limited experience, and small fleets.
Mission will also lend to owner-operators with substandard credit, bankruptcies, child support arrears, or tax liens. Mission Financial will in some cases finance scores as low as the 400s, depending on your overall circumstances. 
While Mission will finance older vehicles, it is recommended that an operator with challenged credit select a truck under 10 years old. Rates usually run about 18 – 20%, but older trucks with more mileage can affect your rate.
To qualify, you will need to provide a complete sales order This must include the cash sales price and applicable fees, including sales tax, DMV fees, and dealer fees (they allow up to a 500 dealer document fee to be added to the contract).
You must also complete a vehicle spec sheet that highlights the year, make, model, vehicle identification number, actual mileage, engine, transmission type, and any accessories. This information is relevant to the terms of your vehicle loan.
In addition to bad credit trucking loans, they also offer repair loan financing, operating capital loans, lease purchase buy-outs, loan refinancing, and small fleet loans.
FAQs
Can I Get Approved for a Truck Loan with a Bad Credit Score?
Yes, it is possible! However, as with all other forms of business lending, a lender is likely going to ask for some reason to approve you. 
Whether this comes in the form of collateral, a personal guarantee, or short terms, or high-interest rates will depend on the lender, the lending product, and the amount being lent.
It will be a point in your favor if you have been in business for at least a year. Good references from vendors (perhaps even trade references) can help, too.
How Much is a Down Payment on a Truck?
For bad credit, truckers will most likely have to pay a relatively substantial amount as a down payment. The better your personal credit, the lower the percentage you will have to put down. 
Business owners offering up substantial collateral (perhaps the truck itself) to secure the loan may be rewarded with a smaller down payment. If you work with a lender which knows the industry well, you may be able to get better numbers.
Can I Buy a Truck With No Money Down?
Yes, it is possible to do so. But if you are putting no money down, a lending institution will want some sort of assurance in its place. This can be:
A personal guarantee

Securing the loan with substantial collateral (maybe with a UCC blanket lien)

A higher interest rate

A shorter loan term
You may also have better luck getting a loan for no money down if it is for a used vehicle.
The post Get Trucking Loans: Bad Credit Won't Get in the Way appeared first on Credit Suite.