If you are looking to haul gravel, support a construction site, or bring a dump box to a commercial space, a dump truck is a way to do it. With dump truck financing, you don't have to pay for a truck all at once—particularly as prices can go into the six figures.
Small business owners will find several choices for dump truck financing. There is money out there.
How to Finance a Dump Truck?
There is more than one dump truck financing option out there. Often, with a truck loan, the vehicle itself serves as the collateral. A lender may want to see a certain minimum amount of time in business as well. Most will require a certain minimum annual revenue for your business. 
For those with a poor FICO score, there may be options to qualify by having higher annual revenue, agreeing to stricter mileage and vehicle restrictions, or paying more in interest with a shorter loan payback period.
Dump truck lending and equipment financing work similarly. You can also get leasehold options. For leases, lending institutions will base their approval on (in part) the age and mileage of the vehicle. Leasing may bring usage restrictions with it.
Business owners with substandard credit will potentially have tighter restrictions on mileage when it comes to leases.
Trucking business owners may also get working capital loans or lines of credit. These are not necessarily for a dump truck itself, although they could be for the cargo you're looking to haul.
Specialty lenders that only work in truck lending and leases will often be a good choice. Dump truck owners can also borrow via strictly online loan providers. There is a lot more out there beyond banks.
Dump Truck Financing Choice 1 – CAG Truck Capital
As a reputable lender in the semi-truck financing industry, CAG Truck Capital offers a variety of loan options, including their unique guaranteed engine overhaul option. 
Even if you have bad credit, a bankruptcy, or a tax lien, CAG will still finance your truck. And, as an added bonus, CAG will report your payments to credit reporting agencies, helping you to build your credit.
CAG also has the ability to finance engine overhauls, which can be a significant expense. And with relationships with certified repair shops across the country, CAG makes it easy for truckers to get funding and repair work, no matter where they are located, or where they drive next.
They will work with startups and owner-operators. And they also offer truck financing for a dump truck business owner with great to bad credit.
You can get a truck loan with a tax lien or bankruptcy. They will only do a soft pull on your credit. 
However, keep in mind that they mainly work in semi-truck financing. Because this is so, a dump truck owner may find they are more likely to be approved for engine overhaul financing. 
But it will never hurt to ask. They may be able to refer you to another finance company if they will not offer dump truck financing.
Dump Truck Financing Choice 2 – Crest Capital
Crest offers new or used vehicle financing. They offer up to 100 percent financing and there is no vehicle age restriction. 
You can also get equipment financing. For amounts less than $250,000, you only need to fill out an online application. Get a decision in four hours. Repayment terms are 24 to 72 months. Crest will check your Dun & Bradstreet business credit score.
For leases or small businesses, loan amounts over $250,000, will look at more than your D&B credit. Crest will want to see all loan and leasing details and two years' worth of financial statements and tax returns. 
These are not just commercial trucking company tax returns. They want to see two years of tax returns from all entities and principals owning 20 percent or more of the business.
You can also get working capital from Crest. Loans run from $1,000 and up. Get a fixed monthly payment for the life of the loan. There are no restrictions on working capital. 
These loans accompany equipment financing. As a result, there are no blanket liens or compensating balances that are typically required by other lenders. Rather, the loan is secured only by a first lien on the equipment financed.
Dump Truck Financing Choice 3 – Topmark Financing
Topmark Funding offers dump truck financing and even financing for a box truck. They will loan to a startup, but you cannot have bad credit. 
This lender can provide a dump truck loan of up to $250,000 with 24-hour approval. They will only perform a soft credit pull. Get fast equipment financing with the money in your hands in one to three days.
You can also get financing for dump truck leasing. Get up to $250,000 from this leasing company. 
To qualify, you will need to have a credit score of 650 or better for the best dump truck financing rates. They prefer three or more years in business with a CDL License. The truck will need to be less than 10 years old, with less than 700,000 miles on it.
This lender will also require that you get insurance on your truck. They offer dump truck financing terms of up to 72 months. 
You can also get small business loans from Topmark Funding. There are no minimum credit scores required but you must be in business for at least 12 months. Also, you must have monthly gross sales of at least $35,000.
If you have cash flow issues, they also offer merchant cash advances. You will only need six months in business and monthly gross sales of $10,000 or better.
Dump Truck Financing Choice 4 – Balboa Capital Commercial Truck Financing
Check out what this alternative lender has to offer for dump truck financing. 
Balboa Capital specializes in providing funding solutions for businesses operating in the trucking industry. The company offers two types of dump truck financing choices for its clients, one for hard collateral up to $500,000, and another for soft collateral up to $350,000. 
The application process for a dump truck loan is streamlined and straightforward. If approved, you can expect to receive same-day funding. The approval process is fast, with decisions made within an hour during regular business hours. 
Balboa Capital offers flexible terms to accommodate the unique needs of its clients.
To qualify for commercial truck loans and more, applicants must have been in business for at least one year, possess a personal credit score of 620 or better, and generate an annual revenue of $100,000 or more. 
The company offers equipment financing options for a wide range of vehicles, including beverage trucks, flatbeds, and other specialized vehicles used in the trucking industry.
For new inventory and the like, they also offer small business loan choices. Those go up to $250,000, and same-day funding is available. You will need to be generating at least $300,000 in annual revenue to qualify.
Dump Truck Financing Choice 5 – a TRAC Lease from Wells Fargo Commercial Vehicle Financing
Wells Fargo offers loan and leasehold options for trucking companies. Loans and leases have terms from 12 to 84 months (seven years). Trucking companies can get fixed or floating rates. Get a term loan or operating lease
They will also offer standard or modified TRAC leasing, equipment lines of credit, leasing purchase agreements, and dealer retail finance programs.
This commercial truck loan provider also keeps an extensive inventory of semi-trailers. These are for leases to fleet owners across the country. 
An owner can choose from their current inventory of used trailers, including composite plate vans, refrigerated trailers, flatbeds, dump trucks, steps, and low boys.
They also finance and lease vocational equipment such as tow trucks. And they will finance and lease everything from a tow truck to any commercial vehicle for hauling heavy equipment.
This truck financing provider also offers heavy equipment financing. Get an equipment loan with terms from 36 to 84 months and competitive fixed or floating interest rates.
You can get up to 100 percent financing and dump truck leasing purchase options.
Small businesses can also get SBA loans through Wells Fargo. Get a 7a loan or a 504 loan for up to $5 million. But to qualify for an SBA loan, you will often need to have a good credit score. The SBA is not a bad credit lender.
Dump Truck Financing Choice 6 – a Dump Truck Lease from Commercial Fleet Financing
Commercial Fleet Financing offers both loans and leases. They will only do a soft pull credit check. There are options for less-than-ideal credit. Their typical client has a 640 FICO score or better. If your credit score is less than that, you must provide more information.
They will work with borrowers who have prior liens, judgments, or bankruptcies in their Fresh Start program.
You will not have to provide tax returns if you are borrowing less than $150,000. The vehicle serves as the collateral. They will not take a collateral interest in other property. Hence, you can finance more than one vehicle, if necessary.
Their financing goes from $10,000 up to $1 million.
They offer $0 down options. Get funding in 24 hours. For a completed application, you can get credit approval in under 2 hours. Depending on the amount of time you have been in business, you may not even have to provide a personal guarantee.
Get construction equipment funding—dump trucks included—in the form of an equipment loan or equipment lease. If you're going to use your dump truck on a construction project, then you can also finance mixers, front-end loaders, dozers, cranes, and more.
Dump Truck Financing Choice 7 – National Funding
National Funding provides truck financing and leasing options for businesses of all sizes. You can get money for a new or a used semi. Or you can finance up to $150,000 in equipment loans for your commercial vehicles including dump trucks.
You can get leases for new or used equipment and vehicles. National does not put limitations on the kinds of equipment you can lease. They offer flexible payment options. 
A small business must be at least 6 months in business in order to qualify. The business owner will have to have a personal FICO score of 575 or better. This is much like scores necessary for qualifying for a merchant cash advance. 
To qualify, you will need to have an equipment quote from a vendor.
Equipment financing is particularly beneficial because you can use it to get a Section 179 tax deduction. This tax deduction allows small businesses to deduct the purchase price of qualifying equipment from their gross income in the year it is purchased. 
This tax break increases savings for business owners by allowing them to deduct the price of depreciating equipment all at once rather than incrementally as in other tax years. 
In 2023, the maximum amount of the Section 179 deduction has been increased for inflation to $1,160,000, making it ideal for leasing one dump truck or even a whole fleet of trucks!
You can get small business financing for your trucking business in as little as 24 hours. Their financing options also include working capital loans, equipment financing, and trucking business loans for less-than-perfect credit. 
Dump Truck Financing Choice 8-Clear Path Financing
Clear Path Financing offers to finance for dump trucks and construction equipment. It also offers equipment funding. 
For dump truck funding, you can get 24 to 60-month payment terms. Often, you will not need to put any money down. They offer a cash flow program for established businesses. Some of their programs will not factor your credit scores into their decisions.
And if you are putting at least 50% down, then they will not check your FICO score.
They also offer sale-leaseback financing. Terms are 24 to 48 months. There is no time in business or bank balance requirements. The minimum amount you can borrow under this program is $10,000.
With sale-leaseback, the truck's value matters more than your FICO score. It may even override a past bankruptcy. Get same-day approval. And, they have an early payoff option.
Under their equipment refinancing program, you can refinance the purchase of your dump truck. You can get 24 to 60-month terms. Contact them for the specifics if your dump truck was built before 2015. 
Clear Path prefers two years' experience owning and operating your own truck. They will heavily weigh your payment history with your current lender. They will look for credit scores above 650 with no past repossessions. 
If you meet these guidelines, then you can start the process by requesting a Payoff Letter from your current lender. Clear Path will also consolidate if you have several loans.
FAQs
Is it Hard to Finance a Dump Truck?
In general, the requirements for financing are not too strict. In particular, this is due to using a truck as collateral. Even older dump trucks with significant mileage on them will have value to a lending institution.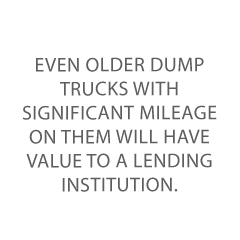 Business owners will always make qualifying easier on themselves if they have:
Good or at least decent FICO scores 

At least six months to one year in business

Annual (and often monthly) revenue in the five figures or more
A borrower often will not have to meet all these criteria. But if they are lacking in one area (say, FICO score), then they can help their cause if they can meet or exceed requirements in another area, such as high annual revenue or a few years in business.
What Credit Score do you Need to Finance a Dump Truck?
Credit requirements will differ depending on which dump truck loan or lease you choose. Like with many types of financing, the better your score, the more options you will have. And those will be better choices with better terms.
But it is possible to get dump truck financing or equipment financing even if you do not have a good FICO score. In such a case, the lending company would most likely require a longer time in business or more revenue, or both.
This is in order to assure a lending institution that you have the wherewithal to repay equipment or another type of loan. 
How Much Do You Need to Put Down on a Dump Truck?
A dump truck loan down payment will tend to be five percent to 25 percent. But there are some providers which will require a down payment of up to 50 percent.
If you can find a cosigner with good credit and a CDL, that can help you qualify if you have trouble meeting a lender's minimums.
The amount you put down can potentially affect if you are approved for a loan or lease at all. So, if your application is lacking in some other area (say, FICO score), you may have to put more down to get any form of dump truck lending.
The post Haul Away a Load of Cash With 8 Terrific Dump Truck Financing Choices appeared first on Credit Suite.